The Pearl Fishers comes home
George Bizet's colourful opera of love, betrayal and rituals, The Pearl Fishers will be performed in Sri Lanka, its country of origin more than 140 years after its composition.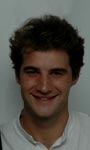 Antoine
Set amongst the fishing folk on an island off the coast of Ceylon, The Pearl Fishers is a fiery love story between the tribal chief Zurga, his companion Nadir and the Priestess Leila. It is a romantic saga in three acts which welds passion, hatred, jealousy, friendship and desire. With its mystic setting, glorious music and splendid imagery the opera is set to dazzle the audience.
'The Pearl Fishers', a Neemrana Music Foundation production in association with the Sri Lanka Tourist Board and the French Embassy in Sri Lanka will be performed at the BMICH on January 9 and 11, 2008. Produced by Francis Wacziarg and directed by Patricia Panton, the orchestra will be conducted by Benjamin Levy assisted by Ajit Abeysekera. The choir conductors will be Menaka de Fonseka Sahabandu (Sri Lankan choir) and Gabriella Boda Rechner (Indian choir). The choreography is by Santosh Nair and sets by Senaka de Silva.
This Franco-Indian-Sri Lankan production will feature a cast of over 120 with musicians, singers and actors representing all three countries, said Antoine Redon, Programmes Co-ordinator from the Neemrana Music Foundation who was in Colombo this week.Addressing a news conference held at the Sri Lanka Institute of Tourism and Hotel Management, he said this is the first time that such an event will be held in Sri Lanka with 25 musicians from the Symphony Orchestra of Sri Lanka and around 35-40 choristers taking part. The choir has already begun training under the direction of Menaka de Fonseka Sahabandu, who was also present at the news conference.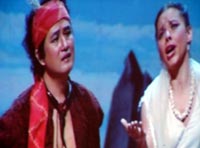 Scene from the opera
The soloists will be Indian soprano Aude Priya Engel, Korean tenor Matteo Lee, Philippe Désandré, bass, and Vikrant Subramaniam, baritone. Director General of the Sri Lanka Tourist Board S. Kalaiselvam said such a production would be a huge boost to tourism as it will no doubt attract audiences from all participating countries. It is seen as an event which would strengthen ties between the three countries and help promote Western classical music in Sri Lanka.
The Sunday Times, Daily Mirror and Hi magazine are the print media sponsors for the event."We are still looking for a few more male voices. So anyone interested could contact Menaka or email opera@fwacziarg.com," said Antoine speaking to The Sunday Times. The opera was staged in India in 2005 in Mumbai and Delhi to rave reviews and it was when Sri Lankan Mohan Tissainayagam saw one of those performances and urged that it be brought to Sri Lanka, that it all came about, he added.