Don't mess with the brain
Always seek medical help if there are indications of possible mental illness says Dr. Raveen Hanwella, Consultant Psychiatrist of the National Hospital.
Indications of possible mental illness are:
Sleeplessness
Irritability -- getting angry or upset over small things, quite frequently
Drop in work performance either at school or at the workplace
Inability to get along with peers or colleagues
Low energy levels and lack of enthusiasm
Loss of self-worth
Personality changes
A loved one is acting out of character…….sleepless nights, disrupted routine, regular bursts of irritability and frequent signs of a personality change. What should family members do?
Contact an astrologer to see how planet changes have affected him or her. Hold a thovil ceremony to ward off ill-effects. Go get a potion or kasaya or gulli. Seek out a counsellor or a psychologist for counselling sessions. Or consult a psychiatrist.
"It is always advisable to go to a doctor, even the family doctor," stresses Dr. Raveen Hanwella, Consultant Psychiatrist attached to the National Hospital in Colombo, explaining that the family doctor, who is also qualified to treat minor mental illnesses will do an initial diagnosis and then recommend a psychiatrist for certain illnesses he cannot deal with.
And mental health is a serious issue, for the recent World Health Survey conducted by the World Health Organization (WHO) has found that depression causes more damage to health compared to chronic diseases such as angina, asthma, diabetes and arthritis.
The survey indicates that depression heads the list, when the total disease burden across the world is taken into account. It is the No. 1 disease that causes morbidity (illness), said Dr. Hanwella who is also a Senior Lecturer at the Medical Faculty of the Colombo University.
Tradition and astrology are fine for the Sinhala New Year, according to him, but when it comes to health, either mental or physical, one must get "scientific treatment" as opposed to "unscientific treatment". "One must not mess with an important organ like the brain which is very complex but at the same time very delicate. If serious conditions of mental illness are not treated medically and early, there can be permanent residual damage to the brain," he cautions.
What of psychologists or counsellors, MediScene asked Dr. Hanwella. Psychologists and counsellors do not have a basic degree in medicine and some do not have a basic degree in science either. Of course, with experience some of them are able to pick out mental illnesses but I feel that it would be best for the patient to first see their family doctor who would be better qualified to do the initial screening, he says.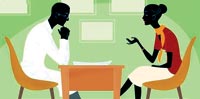 MediScene learns that medical students in Sri Lanka study psychiatry as a subject and have the ability when they pass out of medical school to deal with common mental ailments.
Non-medical personnel could easily miss the diagnosis because the need also is to look out for or pick up whether somebody requires medical help. "Some medical illnesses such as diabetes, kidney or liver disease can cause changes in the brain while certain drugs and also substances such as cannabis can lead to severe mental illness. Alcohol can precipitate mental illness as well," said Dr. Hanwella.
The other causes could be social circumstances, stresses in life, break-up of relationships or even a loss. The reaction to such external events could also lead to mental illness including post-traumatic stress syndrome.
Pointing out the difference between minor mental ailments and mental illness, Dr. Hanwella says the ups and downs of life (feeling sad or miserable) are normal. "But when such lows and highs significantly affect the day-to-day functioning of a person, persist for a long time, or come back over and over again it needs to be checked out.
Mental disorders are characterized by alterations in thinking, mood or behaviour (or a combination) associated with distress and/or impaired functioning, according to Wikipedia.
Of all psychological problems, anxiety disorders are the more common, explains Dr. Hanwella, however, hastening to add that everybody who is anxious over an examination or getting on stage or has a phobia like the fear of darkness is not mentally ill unless it is a regular occurrence and affects that person's life.
Anxiety is a minor psychiatric or neurotic disorder while the major illnesses are schizophrenia, severe depression and bipolar affective disorder. Treatments are diverse for mental illness and could be medication or psycho-therapy or a mix of both. All the latest medications are available at a reasonable cost in Sri Lanka. Comparatively counselling sessions could be very costly, it is understood.
Why take a chance, is Dr. Hanwella's contention. Don't pay more for less or non-effective remedies and don't waste time because it can become a chronic illness, where not only the suffering is prolonged but it could also lead to permanent damage to the brain.
Regrettably, MediScene understands that the psychiatry clinic at the National Hospital, with its free service, is under-utilized.