Hundreds of thousands affected by Africa floods
LOME, Saturday (AFP) - Several of Africa's poorest countries are in dire need of assistance due to severe floods that have killed more than 200 people and affected a million in recent weeks, officials have warned.The latest victims were reported in Rwanda, where officials from the northern region said floods killed 15 people and destroyed more than 500 homes since Wednesday.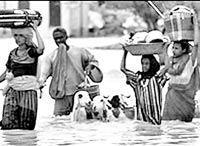 Sudan has seen some of its worst floods in living memory
In Sudan, the worst floods in living memory have left 64 people dead and displaced and affected several hundred thousand, mainly in the troubled south, according to the United Nations. A cholera epidemic spread by floods has also killed at least 49 Sudanese in recent weeks, according to the World Health Organisation.
"The response is still ongoing... Most of the 200,000 plus people who were homeless at the end of August have by now been given shelter," Maurizio Giuliano, spokesman for the UN's Office for the Coordination of Humanitarian Affairs (OCHA), told AFP.In neighbouring Uganda, the minister in charge of refugees and disaster preparedness said that 300,000 people were in need of humanitarian assistance.
"The situation borders a crisis," Musa Ecweru told reporters. He said nine Ugandans had died as a result of the floods, which he described as "a new phenomenon that we have not experienced for many years." Kenya has also suffered from the downpours, a year after unprecedented floods displaced 700,000 people.
"We have activated our disaster response and the government and aid groups are providing food, shelter and medicine to those affected by the floods,"government spokesman Alfred Mutua told AFP.