Putin says 2008 presidential race is wide open
MOSCOW, Saturday (AFP) - President Vladimir Putin said Friday that Russia's 2008 presidential race is wide open, with at least five candidates -- including his surprise new prime minister, Viktor Zubkov. He also did not rule out making a comeback in the following presidential campaign in 2012, according to international experts who met him at talks in southern Russia.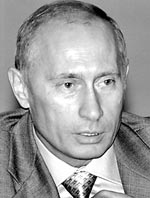 President Vladimir Putin
In comments broadcast on state-run Rossiya television, Putin said "there are at least five people who can really run" in the March 2, 2008, election."Zubkov, like any citizen of Russia, could take part in the presidential elections," he said, hours after the little-known former finance official, who turns 66 on Saturday, won parliamentary confirmation as the new premier. Putin's decision to pluck Zubkov from obscurity just ahead of December parliamentary elections has fuelled intrigue over who will win the Kremlin in the March presidential vote, when Putin is required by the constitution to leave office.
Most observers believe that the race will be minutely controlled by Putin's entourage to ensure that a loyal candidate wins. Anti-Putin politicians who have announced bids, such as former premier Mikhail Kasyanov, have almost no access to the media or substantial funding and are considered to have zero chance of winning many votes.
However, Putin did not say which potential candidates he has in mind and so far no pro-Kremlin heavyweight has publicly expressed interest. Speculation has long centred on the joint first deputy premiers, Sergei Ivanov and Dmitry Medvedev, who are given lavish coverage by the state media and are seen by most observers as likely front-runners in the Kremlin-backed camp.
The sudden rise of Zubkov, followed by the suggestions that he could make a presidential bid, astonished many political insiders. Zubkov fed rumours on Thursday when he said a Kremlin run was possible. "If I get something done here, in this post of prime minister, then I do not exclude that," he said. Putin praised Zubkov as "a real professional" and said: "It's good that another person has appeared and that the people of Russia will have a choice"in the presidential race.
Putin said Zubkov's coy remarks about presidential ambitions had been "a balanced, calm answer. He still needs to work, to get through the (parliamentary) elections."Addressing speculation about his own ambitions after he steps down in 2008, Putin did not rule out a comeback four years later.
"What he said is that it is really too far away and that he doesn't want to think about it now," Antonenko, a senior fellow at the Institute for International and Strategic Studies, told AFP after meeting the Kremlin leader at the annual Valdai Discussion Club of experts in the city of Sochi.
Under the constitution the president cannot have more than two consecutive terms, but can in theory return after a break. Putin said that after 2008 "he will remain in some sort of role, but he didn't clarify what sort of role," Antonenko said. Some analysts believe that Zubkov is a straw man promoted purely because of his loyalty to Putin.
One theory is that Putin is weakening the already pliant government to concentrate further power in the Kremlin and lay the groundwork for him to retain power behind the scenes."Putin thought the government was in his way, so he got rid of the government," Moscow Carnegie Centre analyst Masha Lipman said.
However, others say Putin is simply promoting a broadening field for the 2008 presidential election. Kremlin-connected analyst Sergei Markov told Interfax that the five candidates referred to by Putin included Ivanov, Medvedev, Zubkov, state railroads chief Vladimir Yakunin, and deputy premier Sergei Naryshkin.
"Several people will get Putin's implicit support, but this support will not be monopolised by anyone," Markov said. Since his nomination late on Wednesday a blaze of media publicity has raised Zubkov's profile. He won overwhelming support at his confirmation in the lower house of parliament, or State Duma, which is largely loyal to the Kremlin.
Deputies voted 381 in favour and 47 against, with eight abstentions. Speaking to parliament ahead of the vote, Zubkov said his priorities were "ensuring stability of economic and social development."He promised greater efforts to boost innovation in the economy while also focussing on traditional strengths such as the defence industry.