15,000 buildings damaged in Indonesian quake
KETAHUN, Indonesia, Saturday (AFP) - More than 15,000 buildings collapsed or were seriously damaged by a series of massive earthquakes striking Indonesia's Sumatra, authorities said today as the death toll rose to 17. An initial 8.4-magnitude quake struck at dusk off Sumatra's west coast on Wednesday and was followed by a series of major aftershocks, jolting the coastal provinces of Bengkulu and West Sumatra most severely.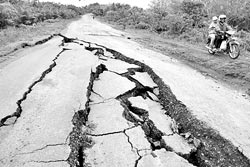 Motorcyclists ride through a damaged road at Air Besi village near the Indonesian city of Bengkulu yesterday. Reuters
In Bengkulu, nearly 2,000 houses were totally flattened and nearly 4,000 others badly damaged, said Bowo Santoso from the governor's disaster rescue centre. About 90 local hospitals and clinics were also damaged, he added.
In West Sumatra, more than 9,700 houses collapsed or were too badly damaged to be inhabitable, said Suryadi from the disaster rescue centre there. More than 100 mosques and about 20 school buildings were also damaged, he said.
Meanwhile Hercules transport planes were to try to drop aid on several islands in the Mentawai group off Sumatra which were badly hit by the quake and a small tsunami, said an official in the city of Padang. Frans Karel, an official on Pagai Utara island, said no aid had yet been received and many frightened villagers were still sheltering in the hills.
"We haven't yet received aid. All the kiosks have collapsed and their food stocks are wet," he told AFP by telephone. "Almost 75 percent of houses on the coastline along a 10-kilometre (eight miles) stretch are badly damaged and collapsed."Rescue workers were still scouring rubble to hunt for victims feared to be trapped under collapsed houses, Rustam Pakaya from the health ministry's crisis centre told ElShinta radio. The death toll was now at 17, and 88 people were injured, he said.