Bush says US troops scaling down operations in Iraq
While ''formidable challenges'' remain in Iraq, President George W. Bush said Saturday, the United States will start shifting more troops into support roles _ in addition to the troop withdrawals announced earlier in the week. In December, the United States will begin a new military phase in Iraq _ one in which ''our troops will shift over time from leading operations to partnering with Iraqi forces, and eventually to overwatching those forces,'' Bush said in his weekly radio address.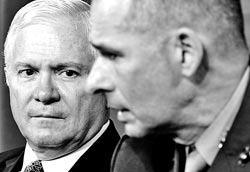 Defense Secretary Robert Gates, left, listens as outgoing Joint Chiefs Chairman Gen. Peter Pace answers a question during a Pentagon briefing, Friday. AP
Bush was following the recommendations of Gen. David Petraeus, the top U.S. commander in Iraq. In a televised speech Thursday, Bush announced he had approved Petraeus' plan to withdraw 5,700 troops from Iraq by the holidays and reduce the force from 20 combat brigades to 15 brigades by July 2008.
On Friday, Defense Secretary Robert Gates raised the possibility of cutting U.S. troop levels in Iraq to 100,000 or so by the end of next year _ well beyond the cuts Bush announced in his speech Thursday. The defense secretary confirmed that he was referring to cutting from the projected level of 15 combat brigades in July to 10 brigades at the end of 2008, and that this would translate to roughly 100,000 troops.
It was the first time a member of Bush's war Cabinet had publicly suggested such deep reductions, perhaps offering a conciliatory hand to anti-war Democrats and some wary Republicans in Congress who have been pushing for troop reductions, a change in the U.S. mission and an end to the war. Next week, the Senate is expected to resume debate on anti-war legislation.
Still, the administration insists that any decisions about cutting U.S. troops will be guided by conditions on the ground, not political reasons or pressure from Congress. ''If we were to be driven out of Iraq, extremists of all strains would be emboldened,'' Bush said. ''al-Qaeda could find new recruits and new sanctuaries. And a failed Iraq could increase the likelihood that our forces would someday have to return _ and confront extremists even more entrenched and even more deadly.
''By contrast, a free Iraq will deny al-Qaeda a safe haven. It will counter the destructive ambitions of Iran. And it will serve as a partner in the fight against terrorism.'' Democratic Rep. Tom Lantos, chairman of the House Foreign Affairs Committee, said Bush's war strategy had failed so far, and a new direction is needed.
''We and the American people already know that the situation in Iraq is grim, and the growing majority of this Congress and of the American people want our troops out,'' Lantos said in the Democrats' weekly radio address. ''Strategically, the escalation has failed.''
Lantos argued that the military buildup the president ordered in January was intended to buy time for Iraqi Prime Minister Nouri al-Maliki and other political leaders to find a way to resolve their differences and end civil strife. But political reconciliation has only inched forward since January, Lantos said.
''We can expect the administration to continue asking for more money, more patience and more sacrifices from our troops _ all in the belief that our continued intervention in Iraq will eventually bear fruit,'' Lantos said. ''But this approach is not a strategy, and Americans' patience with this war has run out.''