Lankan Burnett staffer recognised at Merton College, Oxford University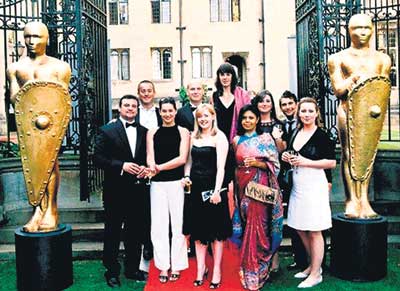 Selonica Nalawansa, seen here in saree
Selonica Nalawansa, Brand Group Head at Arc Worldwide Sri Lanka, was recently awarded the "Best International Presenter" honours at the PAC (Participate – Associate – Communicate) 2007 programme for Young Professionals which was conducted by the International Advertising Association UK (IAA UK) and held at the world renowned Merton College at Oxford University.
She was given this recognition after making a presentation before a panel of 14 judges encompassing leaders from major corporates such as Newsweek, Financial Times U.K., BBC World, Visit London, OMD, National Geographic and EuroSport. Nalawansa was nominated to participate at the PAC 2007 programme as part of the ongoing career development initiative conducted by Leo Burnett Solutions Inc. (LBSI), the local office of the internationally acclaimed advertising agency network Leo Burnett Worldwide, the local Leo office said.
The title of "Best International Presenter" at PAC 2007, given to Nalawansa was one of the most prestigious awards given out during the programme. Her insightful presentation, titled "Imagine London", was one in a series of activities during the training session, and focused on the pre- established conceptions of London, and how this changes on visiting the city. A number of presentations on a variety of topics were made by the participants over the course of the sessions, and each of these were judged by the esteemed panel of judges who awarded points based on the quality, style, clarity, and content of each speaker.
"To walk away with the award for the best international presenter at the programme, displayed that professionals in this country are on par with those from other parts of the world. I am grateful to LBSI for nominating me to be present at PAC 2007, which has been an experience rich in both information and unforgettable memories," she said.
PAC 2007 was a week long programme held at Merton College, Oxford University in August, and was an intensive training course for delegates from all corners of the globe from all the related disciplines in the advertising industry, including media owners, advertising agencies, clients & media agencies. The programme was limited to only 78 delegates from a number of countries from regions as diverse as South America, North America, Europe, Australia, and South Asia.