French to return to Sri Lanka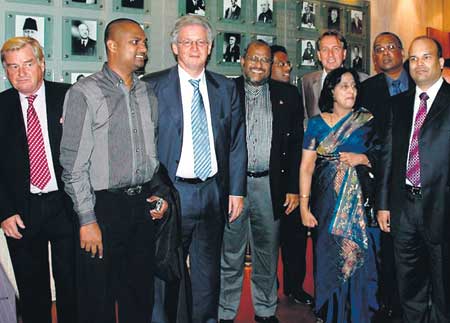 In the picture from left - Prof. Geoffrey Lipmann, Deputy Secretary General of World Tourism Organization (WTO), Dileep Mudadeniya, Addl. DG, SLTB, René-Marc Chikli, Président of CETO (French Tour Operators Association), Renton de Alwis, Chairman of the Sri Lanka Tourist Board, Ruvan de Alwis, Director of Sri Lanka Tourist Board in France, Danny Schepers, Manager of SriLankan Airlines in France, Ms. Chithrangani Wagiswera, Ambassador of Sri Lanka in France and Milinda Moragoda, Minister of Tourism in Sri Lanka.
French tourists, hopefully in droves, are poised to return to Sri Lanka after the country was cleared for travel as a tourism destination.
A Sri Lanka Day organized by its Tourist Board office in Paris was held last week with Minister of Tourism Milinda Moragoda, Chairman of the Tourist Board Renton de Alwis and the Additional Director-General Dileep Mudadeniya attending in order to introduce new products and the measures taken to re-launch the destination and renew its identity.
The Tourist Board said in a statement that the Sri Lanka Day provided an opportunity for the Board to reveal vital information for the French market.
It said fully aware of its negative image in the French market , Sri Lanka Tourism opted for transparency and requested an independent private French security firm to conduct a security audit related to tourism activities. The evaluation, conducted over a period of 12 days by Sécurité Sans Frontières (SSF), covered various tourism sites, hotel infrastructures, airport and other forms of transport as well as general conditions of security (political, social, health and weather-related issues). The findings and methodology and the fact that it was performed independently (no complicity) of the audit were revealed to the public on September 11 at UNESCO. According to Frédéric Bauer, Président of SSF, "the in-depth study of the security conditions has permitted us to make specific and detailed technical recommendations. The terrorist risk is not that greater in Sri Lanka than other countries visited by the French …. In conclusion, the security situation for us is acceptable for tourism visits to Sri Lanka and I take responsibility for recommending the destination for French Tourists."
The Board said this positive conclusion is a welcome change to the position adopted by the travel advisory of the French Foreign Ministry which contributed to a great extent the increasing negative perception of the destination due to the security problems related to the North and East of the country.
The active re-launch of the destination will be put in place through various activities with the tourism professionals. They included a "Half Price for your Better Half" from October to December 2007 and January 2008 package; Incentive for Travel Agents; Mega fam trips; Joint Promotions by the Sri Lanka Tourist Board and Tour Operators willing to participate on an equal basis in the costs; a Treasure Hunt that will take place from October 5-12 in Sri Lanka to discover exceptional tourist sites for travel agents.