My story behind the story
Let the court of the people decide
That evening, August 15 2007, I had returned home after a meeting with Norway's then Ambassador to Sri Lanka, Hans Brattskar.
It was two fold - Firstly, I wished him farewell on his departure at the end of his tour of duty. Secondly, I extended my thanks to the Governments of Indonesia and Norway for inviting me to the second Global Inter-Media Dialogue in Oslo in June this year. I had been meeting him in the months before mostly over this event; giving some views, which I felt, would be useful.
The first Dialogue was in the tourist resort of Bali in Indonesia. Some 100 journalists from 80 countries took part in the event in Oslo. They included journalists from the United States, the United Kingdom, Canada, France, Germany, Indonesia, Afghanistan, Norway, Jordan, the Philippines, Pakistan, Sweden, Singapore and Uganda. There were also officials from the United Nations. The theme of the conference was Primetime for Diversity - Journalism in a troubled world -- and covered, among others, subjects like the Security Agenda (war on terror), corruption, reporting war and Citizen Journalism. I served in the panel discussions on Security Agenda and on Corruption.
| | | | |
| --- | --- | --- | --- |
| | | | |
| Gotabhaya Rajapaksa | Chandrika Kumaratunga | Chandra Fernando | Ranil Wickremesinghe |
I had just returned home with the Police Special Task Force (STF) personal security detail assigned to me. They had accompanied me for all previous meetings too. The team was finishing cups of tea in an outer room before returning to their camp. I entered my house and walked upstairs. My mobile phone rang. It was an officer responsible for STF personal protection teams. He wanted to meet me urgently.
At the meeting that followed several minutes later, he informed me that my personal security detail would be withdrawn. He was polite, professional and explained the official reason - the need for strength in the East where the STF was stepping up counter terrorist operations. After he left, I telephoned Nimal Lewke, Deputy Inspector General (DIG), Commandant of the STF. I thanked him for the service rendered by his men and for his own interest over my safety.
Personal protection was provided to me from May 2005. It was first by a team of Army Commandos. This is how it came about. Whilst on a visit to CNN's regional headquarters in Hong Kong, I learnt of the murder of journalist colleague Dharameratnam Sivaram (Taraki). When I returned to Colombo, I was delivered a message that the then Inspector General of Police, Chandra Fernando, was trying to reach me urgently. I was told that his Personal Assistant, Senior Superintendent D.A.D. Fonseka, (now a DIG) had been contacting the offices of Wijeya Newspapers several times to locate me.
I telephoned the former Police Chief. He warned me of a serious threat to my life. He said President Chandrika Bandaranaike Kumaratunga had asked that I be warned immediately. He also said that measures to protect me were under consideration. State intelligence had acquired information that the Liberation Tigers of Tamil Eelam (LTTE) was planning to kill me. Then Foreign Minister, the late Lakshman Kadirgamar, who was in London had also received independent information on the same matter. I learnt Mr. Kadirgamar had telephoned Ms Kumaratunga and apprised her thereafter. The planned attack on me was to avenge the killing of Mr. Sivaram, it was revealed.
State intelligence had also learnt of another move then. That was to abduct me. That was after a revelation I had made in The Sunday Times (Situation Reports - April 24 and May 8 2005). I reported exclusively how Thamotherampillai Sivakumar alias Newton, a high-ranking official of the intelligence arm of the LTTE, has gone missing after arriving in Colombo. I disclosed how LTTE intelligence wing leader, T. Shivashankar alias Pottu Amman had launched a manhunt to track down his whereabouts. This followed fears that some of the best kept LTTE secrets will fall into Government hands. See montage of The Sunday Times report on this page.
Since the disclosure of Newton's disappearance, approaches were made to me in Colombo by some sources, who I had good reason to believe, had close Tiger guerrilla connections. They wanted to know where in the security establishment was Newton being held and who abducted him. I did not co-operate. These sources did not hide their resentment. One of them remarked somewhat bitterly and in a tough tone, "we have our own means of finding things out." He never spoke with me thereafter. Another who raised issue with me, that time more diplomatically, was later murdered in Colombo in broad daylight.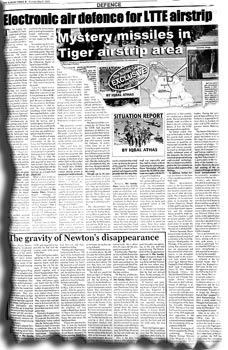 How the Situation Report of the May 8, 2005 issue of The Sunday Times reported the Newton story.
One evening that week, I learnt that the threats faced by me were the subject of a discussion by then Defence Secretary, Major General (retired) Asoka Jayawardena. This was on the instructions of then President Kumaratunga. Top brass of the armed forces and intelligence officials attended it. The meeting ended late night. Then Commander of the Army, Lt. Gen. Shantha Kottegoda, telephoned to inform me that it had been decided to assign a team of Army commandos for my protection. He said the then Director of Operations at Army Headquarters, Brigadier (and now Major General) Nimal Jayasuriya would contact me to arrange the logistics.
Quite honestly, I was in a dilemma. I debated in my own mind what I was going to do. For some politicians, personal security details festooned with camouflage and armed with automatic weapons can be a lofty status symbol. I am a journalist and I had the most sacred duty of protecting my sources. How would I do that with armed men in camouflage around me? How would I meet my sources? There were several other questions too that came to my mind. After much thought, I realised the choice before me was very little. Does one die or receive injuries after rejecting the protection offered? That would only have the authorities saying it happened because the offer of protection was dismissed. On the other hand, does one accept protection and live to tell the story whilst carefully guarding one's sources? I decided on the latter.
When Brig. (now Maj. Gen) Jayasuriya telephoned me, I discussed details. The commandos would stay at my residence and accompany me wherever I went. I told him I would strongly urge they travel with me in civilian clothes and move around discreetly. I said they could come in uniform if I were to go out of Colombo. This was to overcome difficulties at roadside checkpoints. Brig. Jayasuriya agreed and gave instructions accordingly.
I will not discuss strategy, tactics or mechanisms adopted by the brave and dedicated men from the Army's Commando Regiment. I am happy they kept me out of harm's way. But, there were some areas where each other had to worry about one another's concerns. It was incumbent on the commandos, like every other personal security detail, to report to their superior command on the movements of those whom they protect. That included the time of departure and locations visited. It was incumbent on me to be mindful all the time about my contacts and my sources. There was thus a "cat and mouse" game. But it continued under harmonious circumstances. They were not altogether without their moments of humour either.
In every personal security detail, it is no secret; there is one who plays "intelligence" operative. I had known about this fact even before the men were assigned to me. It was not too difficult to identify the one with me. He was overtly inquisitive and exceedingly persuasive. On one occasion, I had a lunch engagement at the Colombo Hilton with the Defence Attache of a western diplomatic mission. Later, I was asked with whom did I have lunch. "With Bjorn Borg," I replied. Two days later, he was to tell me I was wrong and that Borg was a well-known tennis player. Evidently, someone told him that. Otherwise, he would have challenged me immediately.
Another was a meeting in a sixth floor suite at Taj Samudra Hotel. This time it was with a retired intelligence officer of a western country. A leading airline had hired him as a security consultant. He was making a threat assessment in Sri Lanka for his airline. A colleague at the Jane's Defence Weekly (JDW) (of which I am their Colombo Correspondent) had given my name. He wanted to talk to me privately and I agreed since my JDW friend was an influential person. My escorts sat on the sofa on the sixth floor, located near the lift, whilst I went into the suite. I had given them the suite number in case of an emergency.
Within seconds, there indeed was an emergency. The fire alarm in the suite went off triggering a loud siren. The men, true to their form, rushed with their automatic weapons cocked. I met them face to face outside the door to explain there was an electricity short circuit. They withdrew and I continued the conversation thereafter. Upon my return, I was asked who was in the suite. I joked it was a senior Army officer who wanted to meet me secretly. I said that in jest because the Army Headquarters stood just next to this hotel. In reality, neither an Army officer I knew nor could I afford the luxury of meetings at the suite of a five star hotel. They are far too expensive. Later, I related this joke to a high-ranking Government official in the Presidential Secretariat.
Of course, I left out the reference to the visitor from abroad. Thus, it was again a case of meeting an Army officer. I did so only for one reason. By then I knew the relevant authorities were already checking on the identity of the Army officer concerned. My jocular remarks had been taken seriously. Now, the story is being given a new twist. It is claimed that I had kept the escorts away and plunged into a room (leaving the escorts puzzled) to secretly meet an Army officer. Added to that is the complaint that I had used different mobile phones to speak to people. This is not a crime and there is nothing sinister. The logic is very simple though some are highly suspicious of this too.
When a journalist represents different media outlets, local and foreign, using one mobile phone makes it difficult to seek re-imbursement of call charges. Another complaint was that the personal security details disobeyed traffic lights. Neither have I asked nor have they done this on their own. They could have been warned (or even punished) if the authorities knew it. No such thing ever happened. However, there was one occasion when they had to overtake traffic in a hurry. An aide to a senior Government official at the Presidential Secretariat was ringing me repeatedly (on my mobile phone) to say I had to be there before it was too late. Otherwise, the engagement with the official would be off. He had a number of other meetings scheduled I was warned.
Despite these day-to-day events, there was neither rancour nor remorse between the personal security detail and me. I fully appreciated the fact that they had a job to do. On their part, there had been occasions when they were apologetic too. They explained that was their job. On my part, I explained difficulties when I encountered. On one occasion, I feared that at a public event we would be photographed together. I thought it was not good for them. They readily kept a distance but watched me closely.
Sixteen months after, the Army commandos were withdrawn. President Mahinda Rajapaksa personally intervened to stall a previous attempt. I had angered some Army top brass through some criticism on this page. Some of them were not strangers, but friends, staunch supporters of The Sunday Times. The close friends were even regular visitors to my residence. Testimony of the friendship of one of them stands in my drawing room in the form of a maroon Chinese onyx carving of five wild horses galloping away. He had brought it especially for me after a procurement mission to Beijing or so I was told. A journalist who exposes corruption or other irregularities is not only the darling of those in the Opposition as experience has shown me. In equal measure, they are also the darlings of a few in the military who aspire for greater heights only to aim their guns later. This has happened all too often and may happen again. That is given the nature of how things work, be it promotions or extended terms.
With the withdrawal of Army protection, I was assigned a personal security detail from commandos of the Police Special Task Force (STF) in August 2006. This was after an appeal by the Chairman of Wijeya Newspapers. These men too were a dedicated lot. Here again I cannot discuss their strategies, tactics or operational mechanisms. I would only say their professionalism and dedication to personal protection were highly admirable.
As I explained, the personal protection for me came from the Government based on its own assessments following intelligence reports. A Police static guard was posted outside my residence for over nine years. This was in the aftermath of exposures I made then in The Sunday Times. A group of armed men broke in to my residence and placed a loaded pistol on my head. The investigative machinery did not move. Not until Bill Richardson (the then US Permanent Representative to UN) visited Sri Lanka as the then US President Bill Clinton's special envoy. He raised issue with then President Kumaratunga.
The Criminal Investigation Department (CID) took over investigations. After a four-year long trial, two Air Force officers were convicted and sentenced to nine years rigorous imprisonment. The case is now in appeal and the Police continued the static guard. This was withdrawn in the night of August 18. I must place on record the fact that the static guard was strengthened at the intervention of Basil Rajapaksa, senior Advisor to the President. This came immediately in the backdrop of the withdrawal of the commando security detail.
I do not wish to re-visit the key issue over which the Ministry of Defence withdrew personal security and the static guard - my exposure of the alleged corrupt activity and/or irregularities in the procurement of MiG-27 fighter jets from Ukraine. More is known about it in both Sri Lanka and abroad now than any other procurement deal. Nor will I delve into other issues that are already known. In exposing the controversial MiG- 27 procurement issue, I have neither named nor identified anyone who could be involved for any wrong doing. Now that a Parliamentary Select Committee is being appointed to probe it, this aspect could be gone into by them. In addition, the Commission to Investigate Bribery or Corruption is also probing some of these aspects. Both these measures stand strong testimony to the validity of the revelations I have made.
But, there is an irony to all this. Whenever such exposures are made, either in the past or now, "national titles" are conferred in abundance on those revealing them. They are accused of being a "terrorist acolyte," "provider of sensitive information to the enemy," a "person seeking business deals" among a plethora of other accusations. They are now made again and will continue.
But, I want to make one fact emphatically clear. I have no private agenda. Some influential sections of the Government seem to think there are "evil forces" behind me. They say they are "using me" to "discredit" the Government. Nothing can be furthest from the truth. I have made similar exposures in the past. During the tenure of the United National Front (UNF) Government, I made several disclosures in The Sunday Times. They included moves by the Head of the former Sri Lanka Monitoring Mission (SLMM) to recognise the Sea Tigers as a "de facto" Navy. As a result, he was recalled and never returned to his post. Then, there was the Police raid on the Millennium City where the Army's Directorate of Military Intelligence (DMI) ran a safe house. The catalogue is too long to list here. Some of the revelations infuriated the then Prime Minister, Ranil Wickremasinghe. But he did not order the withdrawal of my static guard.
The Police which came under the then Ministry of Interior was under his purview. Similarly, I also made a series of disclosures in The Sunday Times about plans by the Navy to procure outdated ships and weapons. There were allegations of attempts by those in uniforms and outside it to make fat commissions. It infuriated then President Kumaratunga. She was bitterly critical of me at a conference of officers of the armed forces and gazetted officers of the Police at the Bandaranaike Memorial International Conference Hall (BMICH). She turned to then IGP Chandra Fernando and asked him to indict me under the Official Secrets Act though it was not about official secrets that I had written.
I responded to the charges she made. However, she never ordered the withdrawal of the Army commandos assigned to me by her.
But, last month Defence Secretary Gotabhaya Rajapaksa ordered the withdrawal of both my personal security detail as well as the static guard. As I have always maintained, it is not for me to demand security. From the account I share with The Sunday Times readers today (and next week with readers of the Lankadeepa), it is clear I never did so in the past. Defence Spokesman, Keheliya Rambukwella, personally a genial individual, was to declare the withdrawal was after threat assessments were carried out. Media Minister Lakshman Yapa Abeywardena at first said I was offered Police protection but had insisted on the STF commandos. I denied it publicly.
He later changed his position to say I had not made a request. One remark contradicted the other. Unlike in the past, my concern is entirely different this time. Successive Governments acknowledged the need to provide me protection over situations that arose. If I had violated the law instead, I would have made myself liable to be dealt with by them. But there is a very dangerous trend this time. Sections of the Government have enhanced the threats against me. At first, it was by staging a demonstration near my house and branding me as a "terrorist acolyte." The slogans for the demonstration were written by a Government official.
Now, a senior military official has made vituperative personal remarks in an interview to a State run newspaper. He has named me. I do not propose to give respectability to those utterances by answering them. Moreover, I am not a lone victim of his diatribe. Even his senior colleagues face the same vituperation on occasion. This is much to the embarrassment of the political leadership. But, I would only say with all seriousness that such irresponsible utterances send wrong signals to the subordinates. The threats emanating from them cannot be dismissed lightly. I have in writing apprised highest authorities of this in the past.
The telephone calls I have received in the past weeks were so many. So were the e-mail messages and letters. They came not only from Sri Lanka but but also from other parts of the world. There was a distinct difference in all of them. They were not like the New Year or birthday greetings embodying best wishes. There was a strong message - an appreciation of what I have written and expression of great concern for the consequences I had to face.
Some complained or even protested that the Situation Report was not appearing in The Sunday Times in the recent weeks. Others made an appeal not to confine myself to the graveyard of the intimidated, the frightened and the silenced. More touching were the gestures of a few who were close and well known. I was invited by them. The countries included the United States, the United Kingdom, India, Nepal and Indonesia.
Much earlier, I had planned a visit to Thailand where I count many friends. When I got there, I found that the news of my travails had reached well ahead of me. I had to answer many queries and explain many issues to colleagues at the Foreign Correspondents Club of Thailand (FCCT). Then followed another unexpected development - the reported arrest (officially denied by the Thai Government) of Kumaran Pathmanathan, the procurement chief of the LTTE. That no doubt ends the years of manhunt by intelligence agencies of some important countries. More will unravel in the weeks to come.
Freedom of expression on which media freedom is based, is not a matter of individual or corporate caprice but of governance itself. A society that cannot depend on a free press to shine the light of exposure in the darkest corners of misgovernance, corruption and venality masquerading as politics is not free. That is why organisations and individuals who cherish the principles of free expression and also respect the survival of free expression in Sri Lanka against formidable odds have reacted so strongly to the Government's recent actions.
The issues involved go beyond the personal. They go to the heart of democratic governance. They must be viewed not just as dangers to an individual journalist but as an attack on the fundamental rights of the people. The Universal Declaration of Human Rights, to which Sri Lanka is committed, enshrines the "right to freedom of opinion and expression," without interference.
Edmund Burke described the Fourth Estate as being "more important far" than the established three estates of governance - the legislative, executive and judiciary. Late Indira Gandhi held the national media to highest standards of accuracy because, she told an audience of editors and publishers, "newspapers are the first draft of history."
I apologise to readers of The Sunday Times, and to Sinhala readers of the Lankadeepa, both highly discerning sections of the Sri Lankan public for my inability to write in the past weeks. Some can continue to complain that I get my information from the lower rungs of the military. They can also continue to complain that I have never crossed the Kelani Bridge to be qualified to write what I do. However, I did so twice in the past two weeks, on my way to the airport to fly to Thailand and on the return journey. I have never believed that is a requisite qualification. Such remarks are futile for what matters is the truth, nothing but the truth.
If the facts are wrong, I am ever willing to correct them. If they are right, I stand strongly committed to them. In doing so, if I have violated any laws of the land, I am willing to face the legal consequences. I am both answerable and accountable. There is a very important reason for this. The facts I have revealed do not fall from the sky to my lap. The greater majority of loyal, patriotic, committed men and women in the armed force love Sri Lanka, their only motherland. They are law abiding and feel for the people who sustain them through taxes and unstinted support. They want the truth told to the people. That is why they have reached out to me. I am just one of those conveying it. To try to murder, maim or malign me, therefore, is to silence the voice of that majority.