Lankan lions roar twice' on day one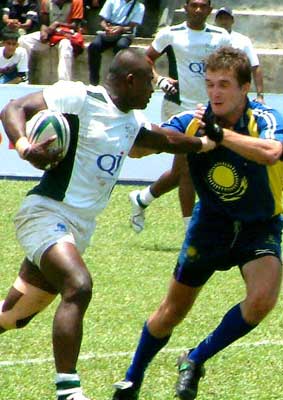 A Lankan player on the prowl delivers a hand-off to a Kazakhstan player. ( Pic by Shane Seneviratne)
It seemed like the Kandy SC juggernaut all over again as the SriLankan Sevens team comprising five players from the home club and two ex Kandyans treated the crowd to a delightful exhibition of sevens rugby to take their appointed place in the semi-finals by beating Thailand 36 points (3 goals, 3 tries) to 5 (1 try) in the Singer SriLanka Airlines Rugby Sevens at Nittawela yesterday.
Amjad Buksh was indeed the cynosure of all eyes as he displayed his sevens wares in ample measure. Be it in attack or in defence Buksh seemed to be the man for all seasons. Jayasinghe, when released, showed the speed that outpaces most defences. Skipper Liyanage did a good job feeding him, while Marija showed fine opportunism and backed up very well. Lewke and Hettiarachchi were ruthlessly efficient in defence. Jayasinghe (two), Buksh, Marija, Liyanage and Lewke scored the tries against Thailand who disappointed after good showings early on.Whatever the outcome of Sri Lanka's game against Korea (at 11.40), the home team has assured themselves of a semi-final berth. A Sri Lanka- Korea final is within the realms of possibility.
Malaysia surprised many by getting the better of China 15-12.The Malaysians led 15-0 at the break. China came back with a goal and a try but fell short.
Korea with two high-scoring wins looms as a distinct threat. Their match against Sri Lanka should be a sizzler. Hong Kong got the highest score for the day (59-0 versus India) and showed evidence of being a thoroughly well-groomed side. Sterner tests surely await them today.
On the schools scene, the 'gang of four' – St. Anthony's, St. Peter's, Isipathana and Kingswood – are in the semi-finals of the Cup. St. Anthony's and Isipathana looked the most unimpressive of the four teams.
Results (post lunch)
(A) Korea bt Kazakhastan 47-12; Thailand bt Cambodia 45-0.
(B) Malaysia bt China 15-12; Hong Kong bt India 59-0.
(C) Sri Lanka bt Thailand 36-5.
Schools Cup Quarter Finals:
St. Anthony's bt. St. Joseph's 42-0; St. Peter's bt. Ananda 31-12; Kingswood bt. Dharmaraja 45-0; Isipathana bt. S. Thomas' 26-5.