Ratnayake Sri Lanka's sole winner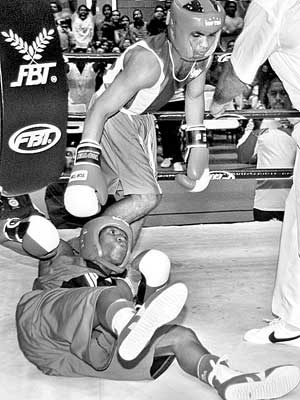 Anuruddha Ratnayake (Sri Lanka) hovers around Rajabu Omar Mbwana of Tanzania in the Flyweight Under 51kgs bout. This was the onlyfight won by Sri Lanka.Pic by Ranjith Perera
Tanzania swept the boards in the first of the two boxing meets against Sri Lanka at the Sugathadasa Indoor Stadium yesterday. The local pugilists were able to win only one of the six bouts that were worked off and Tanzania thus clinched the MAS Holdings Challenge trophy which was on offer.
The Tanzanians began their campaign in style with Mushini Mohamed Mingola outfoxing L.S. Lakmal in the Light Flyweight Under48kgs category before Anuruddha Ratnayake gave the local supporters something to celebrate when he knocked out his opponent at the halfway stage of the second round of the four round bouts.
But from there onwards it Tanzania all the way, but credit cannot be taken away from the local pugilists as they had to face opposition from one of the best and experienced boxing nations in the African region. It was also unfortunate that Kamal Sameera, whose pet event is the Featherweight Under 57kgs category, had to fight in another category which was the Lightweight Under 60kgs, as one of the Tanzanians was unable to make the tour.
The disappointment of the day was S.I Kumara who went down without giving a fight. Nevertheless it was an absorbing experience for the local pugilists, who must have witnesses the approach and style with proper technique by the Tanzanians. It would have done a world of good for them in preparation for the World Boxing Championships due to be held in USA.
Sri Lanka's sole winner Anuruddha Ratnayake was presented with a special trophy for winning his bout. The two countries will again lock horns in the ring on September 10 at the Trans Asia Hotel.
Results:
Light Flyweight Under 48kgs – Mushini Mohamed Mingola (Tanzania) beat L.S. Lakmal (Sri Lanka). Flyweight Under 51kgs – Anuruddha Ratnayake (Sri Lanka) beat Rajabu Omar Mbwana (Tanzania). Bantamweight Under 54kgs – Ally Kimwaga Ally (Tanzania) beat N.S.P. Silva (Sri Lanka). Lightweight Under 60kgs - Petro Charles Mtagwa (Tanzania) beat Kamal Sameera (Sri Lanka). Light Welterweight Under 64kgs – Hashim Simon Petro (Tanzania) beat K.K. Jayasundara (Sri Lanka). Welterweight Under 69kgs - Joseph Martin Mwaselage (Tanzania) beat S.I. Kumara (Sri Lanka).