Close encounters in England
After a closely contested test series, where India triumphed, the one day games have provided close encounters and entertaining cricket. England have shown tremendous improvement and much more character, since the World Cup, with Paul Collingwood leading them from the front.
Similarly, India too have dusted off their World Cup woes and are playing positively and are driving themselves to achieve results. There is a blend of youth and experience and above all players seem aware of their role within the team.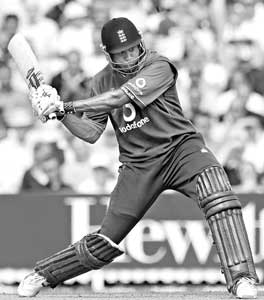 Dimithri Mascarenhas
England got off to a rousing start winning the opening game by a staggering 104 runs. Their score of 288 for 2 wickets must rank as one of their best ODI batting performances. The second wicket stand between Alistair Cook (102) and Ian Bell (126 n.o.) realized 178 runs, with both players registering their maiden ODI tons. In conditions that did assist the seamers, England's four of Stuart Broad, James Anderson, Andrew Flintoff and Dimithri Mascarenhas, strangled India. There were no big partnerships, neither were there any big individual scores, as the visitors crumbled to 184 all out.
It took little time for India to regroup. It was the day the excitement commenced – August 24, at the Rose Bowl in Bristol. India's experienced batting brigade fired. Sachin Tendulkar with 99 led the way. Ganguly (39), Yuvraj Singh (49) and the skipper Rahul Dravid accelerated superbly in the end to remain unbeaten on 92 and the team reached 320 for 7 in their allotted fifty overs.
England fought gamely. They just lacked one batsman to take them to the end. This is vital, when chasing a big score. Bell was amongst the runs again with 65. In the middle young Mascarenhas belted a half century. They got to 320 in the end but fell short by nine runs. The series leveled.
England came back and India wilted in the next two games, as the home team surged ahead to lead the series 3-1. For the Indians to stay alive in the series every game was a 'must win'. They got enough runs and England faltered in the chase and so Dravid's team could breathe easy as they drew a game close to drawing level.
The pressure was on in that sixth game. Mistakes made by both teams were capitalized on. Batsmen reveled in a very good one day pitch at the Oval. Through the series, India had been toying with their bowlers. They used batsmen, Tendulkar, Ganguly and Yuvraj Singh to complete their overs.
This time the move went horribly wrong when Dravid called on Yuvraj to bowl the fiftieth over with England on 256 runs. Dimithri Mascarenhas is an exciting young all rounder. He is a player who has the ability to often turn it on with either bat or ball. He is born to Sri Lankan parents and has lived in both England and Australia but have now settled in England. He is one of the many with Asian connections serving England at present. Monty Panesar, Owais Shah, R. Bopara are other players establishing themselves in the side. In that final over that day in the Oval he belted five consecutive sixes off Yuvraj Singh's left arm spinners. England were in sight of a victory having reached 316.
England has not yet developed players who bowl accurately and with consistency. On good batting pitches should two bowlers be able to deliver their quota of ten overs for less than five an over. Then a score of two hundred and seventy five or more is defendable. The fielders must also raise their performance, to save every possible run.
India scored at a steady pace from the outset. The openers Ganguly and Tendulkar got them the start they needed. They did not panic at any stage even when the required rate crept above eight an over. They have been working with three young batsmen, Gautham Gambir, Dinesh Kartik and Robin Utappa, in the past couple of years and the results were encouraging. Gambir scored runs at the top and Utappa finished it off, remaining unbeaten and striking a boundary to seal victory for his team.
The grounds have been packed to capacity, the cricket has been entertaining, the weather has not been at its best, but Rahul Dravid's team have produced an Indian Summer, with bat and ball.