Maximus bags Presidential Export Award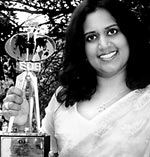 Chulanthi Mathew, Director Maximus (Pvt) Ltd with the Presidential Export Award which was awarded to Maximus.
The World's first Elephant dung paper manufacturer & last year's BBC World Challenge 2006 winner, Maximus walked away with the Presidential Export Award for the sector Hand crafted paper products at a glittering awards ceremony held at the Presidential Secretariat.
The Awards were presented by the President.
It was in the year 2005 that the American Apparel & Footwear Association (AFFA) recognised the good work done by Maximus in turning Elephant Dung to a unique paper product and awarded them the "Excellence in Social Responsibility" award at another gala ceremony in Florida, USA.
Value added products manufactured by Maximus are now exported all over the world thus bringing in much needed foreign exchange to the country.