SIYOTH:Journal on birds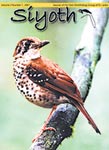 The Field Ornithology Group of Sri Lanka (FOGSL) has published the latest issue of its flagship Birding Journal. The first issue of volume two will be available at the International Book Fair now on at the BMICH.
FOGSL launched this journal on birds to fill a niche in the country for quality information relating to birds and related topics. The journal also provides an avenue to those who are interested in birds to publish their field research, observations and findings.
SIYOTH contains a diverse array of articles ranging from those of a highly technical nature such as research papers to articles meant for the general public. Breaking the language barrier, the Journal also contains articles written in Sinhala and Tamil.