Sri Lankan children highly prone to violence, says Swiss envoy
The conflict in the North and East, the tsunami, domestic violence and general violence have placed children in Sri Lanka in a most vulnerable position, Swiss Ambassador Ruth Flint said. Addressing the annual general meeting of the Child Protection Society of Ceylon on Friday she said violence in Sri Lanka had increased in the past few years.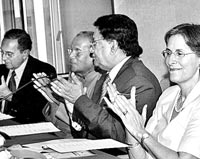 From left: Child Protection Society secretary Mihindu Keerthiratne, vice-president Chandra de Silva, president S.S. Wijeratne and chief guest Swiss Ambassador Ruth Flint. Pic by Saman Kariyawasam
"Though the wounds get healed, the scars remain for a long time. So we should safeguard the children", she said adding that children exposed to violence can have their future destroyed. Elaborating on violence the children here face Ms. Flint said it ranges from using children as sex workers to university ragging.
"This makes organisations such as the Child Protection Society much more important in Sri Lanka," she said. Speaking on children's homes funded and maintained by the Society she said someone's time and generosity could become another's lifeline.
Changing from children to women, she said women are Sri Lanka's two main sources of foreign exchange - housemaids in West Asia and those working in factories exporting garments. "Without these people, the Government would have had a hard time in maintaining the balance of payments. But, these women too are vulnerable to violence", she said.
Child Protection Society president S.S. Wijeratne said the birth dearth has hit Sri Lanka with the birth rate falling below the level of two children per mother which is the replacement level of any country.
"The task of child care givers has increased fourfold and protecting children has become a matter of survival of Sri Lankan society", he said.