Lunugala rape-murder: The road to breakthrough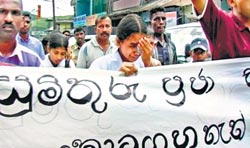 The mother of murdered schoolgirl Kanchana Manohari joined over 1,000 demonstrators who gathered near the
police station when the suspect was being taken to be produced in Court
demanding stern action against the murderer of the victim schoolgirl
The vital information that led to the arrest of a prime suspect in the rape-murder case of schoolgirl Kanchana Manohari in Lunugala came from a woman who had spent sleepless nights after witnessing the suspect carrying the victim on his shoulder soon after the incident.
Police investigations revealed that the woman, identified as Allonona, a 48-year-old estate labourer, had decided to not to tell anyone but her conscience forced her to confide in a neighbour.
More than a week after the incident, Allonona stayed overnight at a neighbour's house as her husband - a worker on a construction site at Bibile- was away from home. The woman with whom she stayed said that whenever she awoke, she noticed Allonona seated on the bed in deep thought.
When asked what was troubling her, Allonona decided to reveal what she witnessed. The information was passed on to the Lunugala police who questioned Allonona for nearly four hours.
The woman claimed she had been threatened by the suspect -- 27-year-old estate field officer identified as Isuru Jayasekara -- not to tell anyone about the incident.
The victim, an athlete who had won more than 30 gold medals at divisional and provincial level meets was on her way to school to sit the Advanced Level examination when her life was snatched.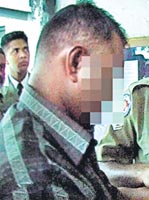 The suspect
Allonona also told police that an estate watcher identified as Karunadasa had also witnessed the incident. Police investigations revealed that the watcher on his way home after night-duty had met Kanchana. Minutes later he had heard screams and shouts. On returning to the spot he had seen Isuru struggling with Kanchana.
Police said they had questioned Isuru but he had claimed not having any knowledge of the incident. However, he said he suspected a vilalge businessman might have been involved. After Allonona and the watcher were questioned, police arrested Isuru and produced him in court.
He was ordered to be remanded. As news of the arrest spread angry villagers held a demonstration demanding that the suspect be severely punished so that such crimes would not happen again.
Among the protesters were Kanchana's mother and sister, About 1,000 people gathered near the police station when the suspect was being taken to court. Villagers say they fear the safety of their children who have to trek about ten kilometres along a lonely estate path for an hour to reach the main road and take a bus to school.
"Children leave home around 5 a.m. carrying lanterns, lamps or a lighted torch. The estate road is in such a bad state that no vehicle can ply on it," a villager explained. Twenty-one families live in this remote village which borders the Badulla-Moneragala districts.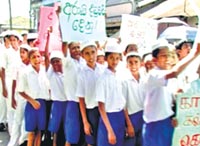 Section of students who joined the demonstration demanding stern action against the perpetrator
Most of them are vegetable farmers. Despite the difficult conditions the farming community faces, the village has produced many a bright student. Kanchana was among four students of Millabedda Vidyalaya who were forced to shift to Passara Madhya Maha Vidyalya as the school she originally attended did not have Advanced Level classes.
Villagers said the Uva provincial council should take their plight seriously and expedite the construction of a proposed road which would be a short cut to the main road.
Investigations are being led by ASP Mahinda Balasuriya on the directions of Uva DIG H.N.B. Abanwala and SSP Badulla Sunil Mathurata, while the Passara and Lunugala police stations are conducting inquiries.