An attempt to ship raw leather as ekel
A consignment of 15,000 kilograms of unprocessed cattle skin valued at an estimated Rs.3.7 million and intended to be shipped illegally to Pakistan was detected by Sri Lanka Customs, a senior Customs official said yesterday. The exporter, Sunshine Enterprise in Wellampitiya had declared the contents to consist of 600 bundles of ekel each weighing 25 kg with a value of Rs. 245,000.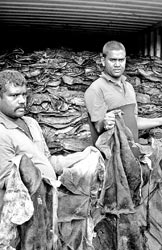 The consignment of leather detected by Customs
The detection was made by a team led by Customs assistant chief director Mali Piyasena after he received a tip-off that the goods did not tally with what was inside the container."Sri Lanka permits the export of unprocessed leather but it has to be declared as such and incurs a considerably high cess," Mr. Piyasena said after he examined the container in the presence of Customs Director General on Friday afternoon at the Warehouse Complex and Container Storage facility in Orugodawatta.
"The cess payable by the shipper for the consignment of unprocessed leather was Rs.200 a kg totalling to Rs.3 million and additionally will be subjected to much paperwork," Mr. Piyasena said. "This was the first time such detection of this nature was made but we have received information that such illegal shipments may have gone on before," Customs Export Chief Director Ravindrakumar said.
Mr. Piyasena said at present the leather industry was going through a bad patch and therefore there were reports that unprocessed products were being shipped without the proper declaration. He said the driver of the vehicle K.G.L.P. Kumar and its cleaner N.N. Mohamed would be further questioned.
Shortly before this incident, Mr. Piyasena detected an attempt to smuggle gold worth Rs.2.4 million. Mr. Piyasena said the unprocessed leather would be valued by the Leather Products Corporation and would be sold either to the public or private sector dealing in such products.