Clinton says he's ready to be 'first laddie'
CHICAGO (AP) - He is on the golf course. She is on the presidential campaign trail. If that was not hard enough, when Democratic presidential frontrunner Hillary Rodham Clinton points out to her spouse that she is 15 years older than he was when he first ran for president, all she gets is tough love.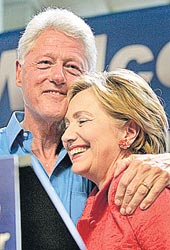 Hillary and Bill Clinton at the South Central Iowa Federation of Labour Rally in Des Moines, Iowa on Monday. The Clintons are making a Labour Day holiday weekend campaign trip through New Hampshire and Iowa. AFP
''And I say, 'Well, nobody made you run, girl,''' former President Bill Clinton joked during an appearance on The Oprah Winfrey Show that aired Tuesday. Clinton also suggested tongue-in-cheek what his title might be if the former first lady wins the election and he moves back into the White House.
''My Scottish friends say I should be called 'first laddie' because it's the closest thing to 'first lady,' '' he said. ''I'm not so worried about what I'm called as what I'm called upon to do.'' Clinton rarely joins his wife on campaign trail, although he appeared with her at events in Iowa and New Hampshire over the U.S. Labor Day holiday weekend. He played down his role in her campaign during the television appearance.
''If she's writing an important article or giving an important speech, she'll ask me to read it,'' he told Winfrey during the show taped Friday. ''And once in a while she'll ask me for some advice on something strategic. But she knows so much more about a lot of this stuff than I do because I'm far removed from it.''
Winfrey has prominently backed Sen. Barack Obama in the race. Clinton's appearance on the program coincided with the publication of his book, ''Giving,'' which deals with tackling global issues through philanthropy, innovative business practices and other ways.
The Clinton Global Initiative, which the former president founded to raise money for projects aimed at global issues such as poverty and health care, is holding its annual meeting this month. Clinton talked about the effort, which has received more than $10 billion (euro7.34 billion) from multinational corporations and others for the projects.
''I just think there is an almost unlimited capacity to do this now,'' he told Winfrey. ''This is a meeting for givers and the whole idea of this is to stop having meetings where we talk about the problems and start having meetings where we do something about them.''