US sees India as partner in global naval alliance
ABOARD USS KITTY HAWK, Bay of Bengal, Saturday (Reuters) - The United States hopes to build an alliance with friendly navies such as India's to form a global force of 1,000 ships and boost maritime security, a top U.S. naval commander said. But Washington's naval cooperation with New Delhi is not intended to send a signal to Beijing and the U.S. navy was not looking to build a base in the Indian Ocean region, Vice-Admiral Doug Crowder said.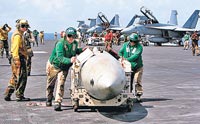 U.S. Navy personnel carry a part of a fighter aircraft on a trolley onboard aircraft carrier USS Kitty Hawk during Exercise Malabar 2007, in the waters of the Bay of Bengal.
The comments by Crowder, commander of the Seventh Fleet, came midway through wargames involving five nations, led by the United States and India, in the Bay of Bengal, one of the biggest such peacetime exercises which has raised the hackles of China.
"We all have common interests in keeping the oceans of the world open, free for commerce," Crowder told reporters on board the U.S. aircraft carrier Kitty Hawk. "But the United States navy just isn't large enough to do that." "We have to find common cause and every nation's sovereignty is protected. They join us for those missions they have a common interest in ... anti-piracy, humanitarian relief, security of the sea lanes."
The six-day wargames which began on Tuesday, involving nearly 30 ships and over 100 aircraft, is the latest in a series called the "Malabar Exercise", first held in the mid-1990s between Indian and U.S. forces. India's navy now has around 140 ships, compared with about 280 in the U.S. navy.
This year the drill has been expanded to include a few ships from Australia, Japan and Singapore in what some analysts see as a new alliance of democracies ranged against the growing military might of China. Although top officials from countries involved in the wargames have assured Beijing that it is not the focus of the exercise, China remains concerned by what it sees as a new security alliance that aims to encircle it.
Crowder sought to once again underplay the strategic significance of the wargames, held not far from a Myanmar island where China is believed to have a military listening post."This was not put together as a signal against anyone," Crowder said. Relations between Washington and New Delhi, on opposite sides of the Cold War, have blossomed since the turn of the last century.
As India's military, the world's fourth largest, goes on a modernising spree, it stood to gain from the United States, Indian officers said."We cannot be like frogs in the well and think that we know everything," said Indian Vice-Admiral Raman Prem Suthan. "It's a changing world and we are looking at professional interaction."