Two political parties are formed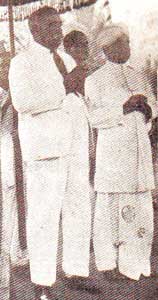 D. S. Senanayake with S. Natesan
during a visit to Jaffna
The month of September marks the formation of two leading political parties in Sri Lanka. One is the United National Party (UNP) on September 6, 1946 and the other, five years later, the Sri Lanka Freedom Party (SLFP) on September 2, 1951.
Before the parliamentary system of government was introduced, the State Council formed the legislature where the members were elected on an individual basis. At the time the Soulbury Constitution was accepted, there were about ten political groups in the State Council but even the Board of Ministers did not belong to a single party. When it was realised that a party system was essential for the new Soulbury Constitution to function properly, these groups began to form themselves into properly constituted political parties.
Among the political groups taking a lead in forming a party was one which met on June 4, 1946 presided over by D. S. Senanayake, the Leader of the House and Minister of Agriculture and Lands. Five other ministers and 25 State Councillors attended the meeting held at the State Council premises. A draft manifesto and constitution was adopted and the inaugural meeting was held on September 6 at 32/3 Flower Road (present Sir Ernest de Silva Mawatha). Three-hundred and seventy persons were invited including members of the Ceylon National Congress and the Sinhala Maha Sabha.
The convenor, J. L. Kotelawela, Minister of Communications & Works invited D. S. Senanayake to preside.
S. Natesan, the Member for Kankesanthurai in the State Council (he was Principal of Parameshwara College, Jaffna) proposed that a political party be formed under the name 'United National Party.' The resolution was seconded by T. B. Jayah, Muslim Nominated Member of the State Council. (He was Principal, Zahira College). A. F. Molamure (Speaker of the first State Council who resigned due to personal reasons) proposed and A. R. A. Razik (second Muslim Nominated Member) seconded the adoption of the draft constitution.
S. W. R. D. Bandaranaike, Minister of Local Administration proposed the name of D. S. Senanayake as President and was seconded by George E. de Silva, Member for Kandy.
The other elected office-bearers were:
Vice Presidents:
S. W. R. D. Bandaranaike, J. L. Kotelawela, George E. de Silva, T. B. Jayah & A. Mahadeva
General Secretary: A. Mahadeva
Joint Treasurers: J. R. Jayewardene & A. R. A. Razik
The party contested the first general election under the new constitution in August/September 1947 and won sufficient seats to form the government with D. S. Senanayake as prime minister.