Virtusa announces IPO and its price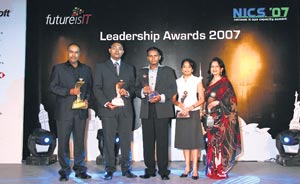 Picture shows from left -- Harsha Purasinghe, CEO of Microimage (Pvt) Ltd (Winner of Most Outstanding Entrepreneur Award), Zulfer Hassen, CEO of Zeelabs (Pvt) Ltd. (Winner 1 of Young ICT Professionals Award), Dumidu Ranaweera, Assistant Manager of Business Process Excellence & Transformation at WNS Global Services, Sri Lanka (Winner 2 of Young ICT Professionals Award), Ms. Anuki Gunawardene, Associate Team Lead at Virtusa Corporation (Winner 3 of Young ICT Professionals Award) & Mrs. Canekeratne who accepted the Most Outstanding CEO Award on behalf of her US-based son.
Virtusa Corporation, a global information technology (IT) services company providing IT consulting, technology implementation and application outsourcing services founded by a Sri Lankan expatriate, last month announced an initial public offering of 4,400,000 shares on the US NASDAQ at a price of $14.00 per share.
The decision to issue a public float was first reported in The Sunday Times FT on February 4, 2007. That report said the company, headed by a Sri Lankan, Kris Canekeratne will go down in history as the first Lankan run US firm to list on the NASDAQ Stock Market in the US.
Canekeratne, Chairman and CEO of the company founded it in 1996 in Massachusetts. In addition to Virtusa, he co-founded 'edocs' a leading provider of electronic account management and customer care, while being one of the founding team members at INSCI Corp., and was on the executive management team that took the company public in 1994.
Currently in its 11th year of operations, Virtusa has been recognised with several recent awards, including the "Silicon India 100" award and the "Global Services 100" award in March 2006, which identifies Virtusa as one of the world's Most Innovative Service Providers.
Meanwhile Canekeratne won the Most Outstanding CEO award at this week's National IT-BPO Leadership Awards 2007, jointly organized by the Information and Communication Technology Agency of Sri Lanka (ICTA) and the industry. Awards for the Most Outstanding Entrepreneur and three outstanding Young ICT Professionals from the IT-BPO industry were also presented.