Outstanding Young Persons Awards again this year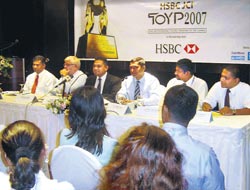 Picture shows the organizers and sponsors at the launch.
The Jaycees of Sri Lanka and HSBC have come together for the third consecutive year to organize The Outstanding Young Persons (TOYP) Awards this year.
The Outstanding Young Persons Awards (TOYP) seeks to honour up to 10 individuals between the ages of 18 and 40 who demonstrate the best attributes of young Sri Lankans. They can be nominated in one of the following 10 categories for the award – Business/Economic/entrepreneurial accomplishment;
Political/Legal/Public Administration; Academic leadership; Contribution to Arts/Culture; Moral leadership; Humanitarian/Voluntary service; Scientific/Technological development; Medical Research and Personal Improvement.
Based on the preferences of the adjudicators, a list of up to 10 or more TOYP Honorees / Merit winners are finally established and published. The main aim of this programme is to encourage the youth of Sri Lanka to emulate the qualities of the outstanding young persons, continue to seek excellence and serve others, the organisers said in a press release.