Grant Sri Lanka dabbles in Mojo Magic Art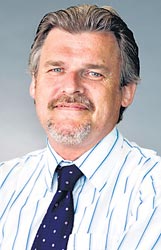 David McCaughan
Grant McCann-Erickson with McCANN MOJO held a 3-day semi regional training programme that is engineered to hone, shape and refine the skill, talent and craft of its many stars.
Structured around the 'McCANN Brand Of Fun', the programme covers not one, but all the disciplines that make up the unique power that is McCANN, the Sri Lankan company said.
Two men who've got Mojo magic "oozing" out of them were David McCaughan, Executive Vice President/Executive Officer, Director of Strategic Planning Regional Strategic Planning Director, Asia Pacific, McCann World Group and Naren Multani Creative Director Films, McCann-Erickson, Mumbai.
"I am delighted with the acceleration of our training programme this year," said Laila Gunesekera Martenstyn, Chief Operations Officer of McCann-Erickson, Sri Lanka.
"….besides Creative and Brand Service, our media department has received extensive training and we are looking to get similar training for our Audio Visual department as a next step."