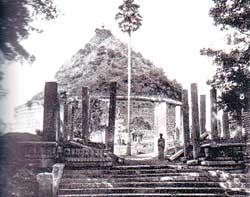 Ruvanveli Seya in Anuradhapura at the time of the excavations
Today we boast of the grandeur of our ancient culture and our civilization. If not for the pioneering efforts of a British archaeologist, we would not have been able to talk of the splendour of Anuradhapura, Polonnaruwa or Sigiriya. He was H. C. P. Bell (1851-1937), a name synonymous with archaeology in Sri Lanka.
Bell came to the country in 1873 as a member of the Ceylon Civil Service and remained here until his death on September 6, 1937. He was the first head of the Archaeological Survey, as the Department of Archaeology was originally termed, from 1890 to 1912. It was he who organized archaeology in the island and he conducted excavation and conservation work at the ancient cities.
His was a painstaking task of recording in detail most of the ancient monuments that were scattered all over. His reports containing all the information of the sites he excavated are referred to as 'Bell's Reports' and form an indispensable source of information to students of history and archaeology. Bell also pioneered the scientific research in Sri Lankan epigraphy by starting the prestigious journal, Epigraphia Zeylanica.
In addition to the search of monuments in Anuradhapura and Polonnaruwa, the first two kingdoms of Sinhalese kings, the first excavations of Sigiriya were conducted by Bell.
Bell was also an authority on the history of the Maldives.
He spent his retirement actively involved in antiquarian studies and writing.
Three more British civil servants functioned as Commissioners of Archeology before the first Sri Lankan, Senerat Paranavitana took over in 1940. They were A. R. Ayrton (1912-21), Captain A. M. Hocart (1921-29) and A. H. Longhurst. In between the last two, J. Pearson and Paranavitana acted in the post of Commissioner from 1929-35.