Ameena long-listed in first Man Asian Literary Award
Ameena Hussein as a person is an open book--irresistible, candid, fun loving, spirited, and ready to embrace life with open arms come what may, with a sweetness of character that flows through. Then you meet the inspired writer whose books bring out a different personality statement. Two acclaimed short story collections vividly crafted to create stories written to reflect the times we live in. And now she has the distinction of being the only writer from Sri Lanka to be long-listed for her work, "The Moon in The Water" for the first Man Asian Literary Award, a new prize being spoken about as the "Asian Booker".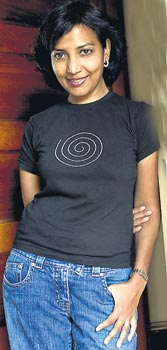 The award, to be presented in November in Hongkong has created excitement among writers and aspiring writers in Asia."To be on the long-list among the best 23 is quite flattering and a huge motivation for me as a writer." The probability of winning the award makes Ameena take a long pause. "I would," she said softly, "be frightened – delighted but frightened." Her metamorphosis from student to socialist to writer began with "a big red notebook that I used to jot my thoughts and observations down when evoked by heart-rending glimpses of nature or confronted by a stirring of emotional indignation against injustice, when I still did not know I could write."
It was time spent in United States that fuelled her growth as a liberated socialist. Eager to highlight the difficulties and problems faced by immigrant South Asian women, their notes became her collection of stories that had to be told.
Her evolution from graduate student to social activist laid the foundation and created the structure for her characters later on, as she went through the next years of her life on a personal journey of self-discovery at a time when seeking the meaning of life through unconventional means was not quite the done thing for a young Muslim woman.
That did not deter this unpredictable and passionate young woman whose mixed blessings of a privileged background and liberal minded parents gave her the springboard to take off on a writing career.
As an unabashed self-confessed eavesdropper curiously listening to the voices of women and men striving for emancipation and self- fulfillment in love, careers and relationships and most often failing, created the necessary impetus to start on her first book" Fifteen" a collection of short stories, published in 1999. The book of 15 short stories are put together like a patchwork quilt, eloquent prose created out of conflicting compulsive emotions that lie at the heart of a life.
The book was shortlisted for the Gratiaen award in 1999." Zillij", her next book, titled after a traditional Islamic art form of creating intricate designs using hand cut tiles gives the reader a glimpse into a bygone era whilst dealing with perplexing and troubling questions that have spilled over into the present day.
Her crisp prose scatters any illusions about the myth of living in "paradise" or looking for paradise in other lands. Yet, paradoxically for those who remember a different environment, it invokes nostalgia. For times when there was a Sri Lankan identity and for the people who continue to hang onto what being Sri Lankan or South Asian is all about. It won her the State Literary Prize in 2005. Ameena does not write about idyllic people or situations. She writes about survivors and the situations they feel compelled to create to survive.
Her ground-breaking research was on violence against women in rural areas for the International Centre for Ethnic Studies where she worked as editor of their in-house magazine, Nethra. "Sometimes There Is No Blood" and two other reports speak about the unseen violence facing women behind closed doors.
"I am not a disciplined writer, I write only when I am inspired," said the vivacious and attractive writer. She calls writing an arduous process and says she polished her writing skills when she was selected to attend an international workshop on creative writing at the University of Iowa in 2005.
"It was an amazing experience and gave me the opportunity to mingle with established writers from across the world." It also helped raise her own measure of self to know her work was acceptable among an international peer group. "Iowa was a big test to dispel any self doubts and give me the necessary encouragement. Writers need creative support." They also need to be appreciated for their creativity to flow. Being selected to make the valedictory speech at the workshop was an acknowledgement of her talent. It was probably to fill a vacuum back in Sri Lanka that prompted Ameena to start the Perera Hussein Publishing House with her husband Sam Perera in 2003. The Perera Hussein Publishing House has become the haven and meeting ground for many established and aspiring local writers.
Ameena was one of the driving forces behind the first international literary festival to be held in Sri Lanka, the Galle Literary Festival. It was at the festival, in an environment filled with the collective talent of so many writers that Ameena was struck by a conversation among a group of friends who wondered why no writer from Sri Lanka had entered for the much talked about Man award, when India had submitted the largest number of applications.
With a few days left to the deadline, a sketch of "Moon In The Water" as yet an undisclosed plot, until the shortlist is announced in October, made it to the long list. The race is on. Will she reach the winning post? Does it matter? It is the journey that allows you to reach for the stars, that counts.