More Lankan firms invest abroad
An unfriendly business environment plus an uncertain climate are among new reasons for some conglomerates and middle-sized companies with exceptional skills to invest overseas, an analysis by The Sunday Times FT shows.
Boldness and being where the action is (India and China), labour costs, infrastructure constraints and inconsistent policies are also reasons for Sri Lankan companies to venture out. Local companies investing abroad is nothing new but according to economists, the trend has intensified in the past 18 months after the present government, widely regarded as being unfriendly towards the private sector, came into power.
The Sunday Times FT also found that some businesses, particularly in the apparel and leisure sector, in a bid to minimise the country risk were taking their expertise abroad and capitalising on large markets available for their products. Among firms who have ventured abroad or have plans to do so are Emerald International, Damro, Jetwing, Hemas, Softlogic, Brandix, Laugfs, Panora and Triad.
Analysts say they are following in the footsteps of leisure companies like Aitken Spence and John Keells Holdings whose hotels in the Maldives are providing the excellent 'pay back' or cushioning the impact of huge losses in running hotels in Sri Lanka or other business in a topsy-turvy security environment.
Principal researcher at the Point Pedro Institute for Development, Dr. Muttukrishna Sarvananthan says there are pros and cons to investing abroad. "The loss to Sri Lanka is that capital is moving out and the country is losing out on new employment generation and quite possibly, we may also be losing existing employment. On the flip side, although companies are going abroad, they may repatriate the profits made which may also lead to increased remittances," he said.
Hussein Esufally, Chairman, Hemas Holdings Ltd (HHL) said that due to both the political and the business risk, local businesses look to diversify their portfolios overseas. "The main reason for us to venture out is that a large part of our business is in fast moving consumer goods and the local market is very small compared to other markets such as neighbouring India," he explained. He said the uncertainty in the country has also prompted HHL to venture abroad.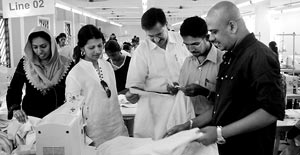 Picture shows the Emerald team during their recent inspection visit of the Chennai factory. O. P. Khemka (centre) - one of the Directors of Emerald Creations (Pvt) Ltd, is also present.
Esufally said that inorganic growth in the form of acquisitions, joint ventures and strategic alliances are likely to feature in most of HHL's business expansions over the medium term."We are exploring other sectors to venture out," he said. Ashok Pathirage, Chairman, Softlogic Group said that Sri Lanka is very unpredictable in terms of clear government policy and direction. "We do not have clear direction in government policy," he said. He added that each time a government changes, the policies also follow suit. "As such it is very difficult for businesses to get adjusted here. We need to minimise risk and survive during these periods that governments change and this is really challenging," he added. Softlogic owns a Dell Computers' distribution company in Pakistan, a trading company in Singapore and a software development company in Australia.
Pathirage said the reason to venture into Pakistan was that the market price for a computer is 10 times that of Sri Lanka. "The market in Pakistan is very large," he added. He said that the company has leveraged premium skills at low cost to develop software for the Australian market. "Our software development and labour cost is very low and we sell at high prices the software specialised in healthcare and education."
He pointed out that India, by 2030 will be the third largest economy in the world. "It is best for Softlogic to move into a country like this where there are proper and clear directions, because by 20 years we can reap the results from that economy," he said.
Feroze Omar, Director, Brandix said that countries such as India have better economies of scale than in Sri Lanka. "We went to India mainly for the economies of scale," he said, adding that the decision was based on building a supply chain solution which added to the company's profitability. "If you wanted 10,000 sewing personnel, there is no way Sri Lanka can provide that in a hurry, but India has the capacity to do that," he said. He said that Brandix is in the process of setting up a textile and apparel park in Andhra Pradesh. "The government of India made arrangements for the infrastructure which was a very encouraging move," he said.
The latest company to venture abroad, Laugfs, a Liquefied Petroleum Gas (LPG) distribution company, set up their operations in Perth, Western Australia recently. "We are the largest facility in Australia and we set up a LPG conversion centre which has a capacity to convert six petrol cars into LPG," Thilak de Silva, Managing Director of the company said. Laugfs however is probably the only company which has ventured out due to none of the above reasons.
This week Emerald International, one of Sri Lanka's biggest shirt manufacturer's, said it wants to go global with the launch of a production facility in India.
The Indian plant under the name Emerald Creations (Pvt.) Ltd, with specialised machinery for manufacture of high quality shirts, was commissioned in June this year and currently is engaged in manufacturing for high quality labels in the Indian market. Very soon, it will be launching its line of shirts under the Emerald label. The JV plans to go in to the T-shirt and trouser manufacturing, in the next stage, the company said.
Carson's stifled by alcohol promotion restrictions has invested in India. South Asia Breweries, the group's Carlsberg led joint venture in India just began construction of its third brewery in that country. Located in Maharashtra, this greenfield plant will join the Himachal plant bought a few months ago and already in operation whilst the Rajasthan plant is scheduled to commence commercial operations in early 2008.
Hiran Cooray, Managing Director Jetwing said that the main reason for his company to enter into a management contract in South India and in Cambodia was that they wanted to take Jetwing's expertise into those countries. "We wanted to take our management style and what we have done in the tourism industry involving the local communities to these countries," he said. He also noted that the terrorism factor and the volatile political situation in the country also contributed to their decision.
S. H. M. Rishan, Managing Director, Panora Corporation said that they invested in Taiwan for logistics reasons. "We assemble the computers in Taiwan and we are better placed, because all the outsourcing takes place there," he said.
Ishara Nanayakkara, Chairman, LOLC Plc said that there was an opportunity for the company to go to Cambodia, mainly due to the proficiency that it has. "We wanted to take expertise to Cambodia and we will be expanding some more into the region," he said. "We are also focusing on regions outside Sri Lanka with the intention of bringing learning from those markets into Sri Lanka. Our investment in the Micro Finance Institution PRASAC in Cambodia is a move in this direction," he added.
Rajan Brito, Deputy Chairman, Aitken Spence and Company also had similar thoughts when he said that they ventured into Maldives and India to take their expertise to those countries. "Secondly we wanted to retain our staff because we found that many of our hotel cadres leave for assignments abroad. Venturing out meant that we could employ them at competitive salaries," he explained.
Ravi Abeysuriya, Country Director, Amba Research said that firms which have specialised in certain technical or logistical skills have begun to recognise this as their competitive advantage, which has prompted them to venture into other markets. "Also many want to mitigate the country risk and venture out. A good example is the tourism companies," he said.
Dilith Jayaweera, Joint Managing Director, Triad Advertising said that the company is expanding overseas shortly. "We have identified opportunities both in India and Maldives and completed the ground work. We have identified opportunities to take some local brands there," he added. He said that Triad will also tie up with independent firms in countries in the region in a bid to take local brands overseas.
Economists say soaring transportation and electricity costs combined with an inadequate infrastructure and a lack of strong technical capability is also making Sri Lanka highly unattractive for business.
Sarvananthan, also an economist, said that even though Sri Lanka boasts of high literacy rates, the country's IT's and English knowledge is far behind other countries. Given that technical capacity is also minimal, it prevents middle level and high level industries from coming into the country.
Economist Dr. Harsha De Silva told The Sunday Times FT that leisure companies like Aitken Spence and JKH invested in the Maldives to put their eggs in different baskets. "Maldives is a high end market and Sri Lanka has cheap tourists. The profits for tourism related companies are coming from the Maldives." De Silva added that Sri Lankan companies are also favoured in the Maldives to set up operations.
Jetwing is planning to expand in Cambodia because they are going for high end tourism where returns will be good in the longer term, De Silva said. For example, the recently opened Jetwing high end boutique hotel, Vil Uyana in Dambulla, has been unable to generate the kind of revenues they were expecting.
De Silva said the reason behind investing abroad for different companies or different sectors varies. As far back as 12 years ago, diamond factories in Sri Lanka were moving overseas to take advantage of quota systems. Those agreements have since been revised and most of the overseas factories have been sold. Sarvananthan also said Sri Lankan gem companies had been investing heavily in places such as Madagascar due to some of Sri Lanka's restrictions on the import of raw gems.
According to him, companies heavily involved in Business Process Outsourcing, more commonly referred to as BPO's where entire business functions are relocated to low cost locations such as John Keells and Virtusa are moving elsewhere due to the inadequate infrastructure and technical knowledge. John Keells has set up a huge BPO in India because lease line prices are extremely high in Sri Lanka. "Our telecom reforms haven't gone far enough to bring down one of the key costs in doing BPO type businesses which is the lease line costs," De Silva said. Delays in reforms mean Sri Lanka loses out. Compounding the problem is the lack of skilled workers. He added that according to the government, the BPO or software industry is worth US$100 million. "If we had the infrastructure system set up here for BPO's, we could have made Colombo into a Bangalore of Hyderabad. However, people go and invest in India and other places like Mauritius."
Big players in the local textile and garment industry, namely MAS Holdings and Brandix have also been investing abroad. "It has been going on for the last four or five years because labour costs have been increasing in Sri Lanka," Sarvananthan said. Companies are investing in newly emerging economies such as Cambodia, Vietnam and Bangladesh. He added that a lot of investment has been going to the Middle East as well because it is regarded as being more favourable to the private sector and a far less stringent tax regime. Some smaller scale food and beverage industries such as Munchee and Elephant House have also moved. Munchee can be found in India and Elephant House has invested in the Maldives and the Middle East.
According to De Silva, there are two main reasons for companies to leave. Firstly, there is a lack of a conducive environment for people to make investments in this country and secondly, it is an intelligent business strategy. "This is a global world and there is freedom for companies to invest overseas," De Silva said. "They are making a business decision in a globalized world." He explained that at the same time Sri Lankan businesses are going abroad, the Board of Investment says that people are investing in Sri Lanka. "That is also a business decision for those companies. It would be best if we can keep our companies here but it is not possible in a free market economy."
According to another leading economist, Sri Lankan companies are investing abroad due to the current security situation and the lack of confidence in a resolution of the problem, the destabilization of the economy by the large fiscal deficit and high inflation. Furthermore, the depreciation of the currency, the high costs of energy and transportation, high interest rates and possibly increasing wages are also factors which increase risks and reduce profitability for companies. He added that Sri Lankan companies would be more compelled to stay in the country if the stability of the markets as well as stability in economic policies and a hospitable business climate.
Chairman Ceylon Chamber of Commerce Mahen Dayananda says expansion in to other geographical regions is sometimes necessary for growth of the business and by expanding to other geographical territories, the companies could create brand awareness and to take advantage of the closer proximity to a market to supply goods at a competitive price. "In addition, local presence also helps a company to gain a better understanding of the market, its consumer preferences, culture and practices, etc," he said.
Picture shows the Emerald team during their recent inspection visit of the Chennai factory. O. P. Khemka (centre) - one of the Directors of Emerald Creations (Pvt) Ltd, is also present.