Zimbabwe's problems 'exaggerated' say regional leaders
LUSAKA, Saturday (AFP) - Southern African leaders failed yesterday to heed calls for strong action against the embattled Zimbabwean government, saying the ailing country's problems were "exaggerated". "We ... feel that the problems in Zimbabwe have been exaggerated. We feel they will solve their economic problems," Zambian president and chairman of the 14-nation Southern African Development Community (SADC), Levy Mwanawasa, told journalists at the end of a two-day heads of state summit in Lusaka, Zambia.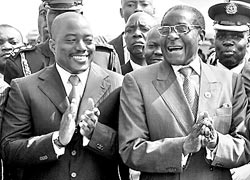 Democratic Republic of the Congo's (DRC) Joseph Kabila and Zimbabwe's President Robert Mugabe applaud during a SADC Military Standby Force parade at Zambia's Air force base in Lusaka, on the 2nd day of the 27th SADC Ordinary Summit of The Heads of State and Government. AFP
"We are quite satisfied with the report from South African President Thabo Mbeki on the crisis in Zimbabwe," said the Zambian leader, who recently likened neighbouring Zimbabwe to a "sinking Titanic".
Zimbabwe is in the throes of an economic crisis with inflation well past the 5,000 percent mark, four in five people jobless and 80 percent of the population living below the poverty threshold. The United States called on the leaders from southern Africa to push harder to end the crisis in Zimbabwe.
"We encourage SADC leaders to press vigorously for a sustainable solution to this man-made crisis," State Department spokesman Sean McCormack said. "The Zimbabwean people deserve nothing less."McCormack said that while the SADC struggled to bring reforms to Zimbabwe, the Mugabe government had not expressed a similar commitment.
"Its obstructive actions, such as lack of participation in scheduled talks and statements arguing against the need for mediation, have undermined this important initiative," he said.
The SADC mandated Mbeki in March to mediate between Zimbabwean President Robert Mugabe's ruling ZANU-PF and the opposition Movement for Democratic Change (MDC). Mbeki reported on progress to the summit, while SADC secretariat executive chairman Tomaz Salomao briefed heads of state on Zimbabwe's dire economic straits.
Mbeki told a news conference later the rival Zimbabwean parties remained engaged in talks on the basis of a mutually agreed agenda, describing it as "work in progress". "They ... are making progress in these discussions," said the president, adding any breakthrough would be reported to SADC.
"Everybody is interested that when the presidential and parliamentary elections take place in March next year in Zimbabwe, they should be held in an atmosphere that will result in free and fair elections without controversies and so on.