Temple, church, mosque and kovil in forefront of HIV awareness
The message is to be broadcast from the temples, the churches, the mosques and the kovils…..and the word being spread would be vital for the survival of humankind. These are the plans of a group of religious leaders, who have joined hands to launch a campaign against HIV, not only to strengthen prevention programmes but also to make people aware that those living with HIV should not be shunned or discriminated against but treated with empathy and not sympathy.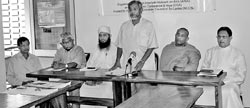 From left : Social activist Sirimal Peiris, Mr. Rajapuvaneeswaran, Farood Moulavi, Rev. Peiris, Ven. Maithri Thera and Rev. Perera at the media briefing.
With hectic activity underway to organize the International Interfaith Pre-conference on HIV (IIPH) scheduled from August 17-19, as a precursor to the 8th International Congress on AIDS in Asia and the Pacific (ICAAP), the local interfaith group is of the view that HIV should not be confined to congresses and meetings. That's the challenge they have taken on.
"We have a duty as religious leaders who are close to the people to make them aware through deshanayas about HIV," stressed Ven. Nadagamuwe Wijaya Maithri Thera, the Ramanya Nikayas Karaka Sangha Sabika at a recent press conference in Colombo.
We are hoping to give the messages from the temples on our part so that it will reach not only the far corners of the villages but also the towns, he said, adding that the main chapters had all been requested to nominate delegates to the IIPH. "Our messages will target all relevant groups."
Explaining that all four major religions in the world would get together at the IIPC, Rev. Ranjith Perera of the Church of Ceylon said in Sri Lanka with a low prevalence of HIV, such messages would be an ideal strategy to keep the disease from spreading. "People here respect the clergy and listen to what we say." Places of worship could also be used to make people understand that stigma and discrimination should not be the way we should treat those who are living with HIV, he said.
Echoing similar sentiments, a member of the All Ceylon Iammiyyathul Ulama, Ash Shaikh M.F.M. Farood Moulavi said it was great that the four main religions had joined hands to battle HIV. "We need to turn talk into action and we will make sure that during our prayers we conduct awareness programmes, not only for the men but also for women," he said.
Usually in kovils though we don't have sermons, we will set about launching programmes to arm the people with knowledge, added the Vice President of the All Ceylon Hindu Congress K. Rajapuvaneeswaran. On the IIPC, Rev. Dr. Jayasiri Peiris , General Secretary of the National Christian Council of Sri Lanka, explained that they are expecting about 200 delegates to participate, discussing issues such as using religious messages, festivals, traditions and liturgies to fight against stigma and discrimination and also working for the welfare of children living with HIV. And while the main religions of the world would be represented, smaller groups such as Sikhs and Confucians are also to be an active part of the IIPC. (KH)