Tuskers from Myanmar ready for Perahera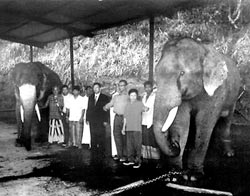 These are the first pictures of the two tuskers gifted by the Government of Myanmar to the Government of Sri Lanka, with the Myanmar Ambassador and veterinarian Dr. Kmin Maung Tsu of the Myanmar Forestry Ministry.
President Mahinda Rajapaksa inspected the two tuskers and fed them when they were brought to the Janadhipathi Mandiraya in Kandy about two weeks ago.
The official handing over of the two tuskers would be on the last day of the Perahera or on the following day. The elephant keeper from Myanmar is on extreme right.
The veternarian, the Ambassador and the local mahouts are also in the picture.