The terrible truth behind the freezer truck
New tactics by Tigers - explosive operations directed from abroad
Lull during Black Tiger week may be sign of coming terror as Thoppigala battle reaches climax
Two recent detections - over 1,000 kilogrammes of explosives in Trincomalee and a 20 kilogramme Claymore mine at Obeysekerapura (near Borella) - have laid bare a new modus operandi used by the Liberation Tigers of Tamil Eelam (LTTE) to carry out attacks.
Handlers are giving instructions from abroad to guerrilla operatives in Sri Lanka to execute tasks. This includes persons whom they should contact, movement of weapons and explosives. The method is being adopted to prevent investigators from tracking down the leaders of guerrilla units responsible for assassination plots on VIPs and planning attacks on important targets. Investigations have revealed that operatives tasked to carry out attacks are unaware of their missions until they are asked to meet the contact person, often unknown to them.
In the case of the detection of a freezer truck with over 1,000 kilogrammes of explosives in Trincomalee on June 29, the LTTE handler from Canada gave telephone calls to local operatives carrying mobile phones. Investigations into the earlier detection of a 20 kilogramme Claymore mine at a house in Obeysekerapura revealed that the handler gave instructions to the operative on his mobile phone from Britain. The explosives as well as the Claymore mine, detectives believe, were meant to target VIPs.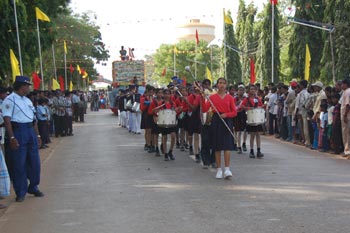 The LTTE's new operational pattern, extending beyond the shores of Sri Lanka to attack local targets, seems to strike a parallel. Investigations into three failed car bombings this week in Britain also assumed an international dimension. After the detention of suspects in Britain, the probe has extended to Australia where a doctor was arrested. It came after Police detained two men who drove a burning Cherokee Jeep into the entrance of the main terminal building of Glasgow international airport in Scotland. Just a day before this incident, two Mercedes Benz cars loaded with gas canisters and nails were found abandoned in London.
If in the past, the LTTE only procured military hardware from abroad to fight a separatist war in Sri Lanka, such hardware was transported, sometimes in its own vessels, and smuggled in. It appears the LTTE has now roped in cadres abroad to execute operations in Sri Lanka.
The seriousness of the find in Trincomalee can be gauged from the concerns expressed last Wednesday by President Mahinda Rajapaksa. At the weekly Cabinet meeting, Minister of Public Estate Management and Development, Milroy Fernando raised issue over freezer trucks loaded with fish being disallowed from proceeding further by the Security Forces at check-points. "Are you telling me that freezer trucks should be allowed to come into Colombo and thus destroy the City?" he asked.
The President said that the Ministry of Fisheries should purchase freezer trucks and use them under their supervision. Minister of Special Projects, Mahinda Wijesekera, was to point out that a cartel of Mudalalis were controlling fleets of freezer trucks transporting fish. Mr. Rajapaksa declared that the Fisheries Ministry should break that monopoly by entering the trade.
A one time militant group now helping the Navy in Trincomalee was singularly responsible for the events that led to the detection of over 1,000 kilogrammes of explosives. It began on June 24, when cadres of this group rounded up 32-year-old Kanakaratnam Jeevaratnam alias Jeevan alias Muththu and his freezer truck JG 4915. For five days, they interviewed him intensely on prior information they had received about his activities. On June 29, he confessed that explosives were hidden in his truck. The group members promptly informed staff at the Eastern Naval Area Headquarters in the Dockyard in Trincomalee. They took the truck as well as Jeevaratnam to their headquarters. A thorough search led to the discovery of the explosives packed in rectangular plastic boxes with the triggering mechanisms intact.
Jeevaratnam was then questioned at length. He revealed that the explosives had been placed in the freezer truck on August 10, 2006. This is after he took the truck to an LTTE camp in Anandapuram (in the LTTE dominated Kilinochchi district). The next day, he took delivery of it. An LTTE cadre who used the nom de guerre Gnanavel had advised him, when he went to Wanni, that the freezer truck should be held in a place close to Colombo. He was told to hand over the truck to a person whose identity would be disclosed when he receives a call on his mobile phone. He had travelled from Vavuniya to Wennappuwa and stayed in the house of a person identified as Podi Kolla for a few days and returned to Trincomalee. A person identified as Babu from Canada kept in touch with him. He was giving him all instructions. He had told him that money he had spent in moving the vehicle from Vavuniya to Trincomalee will be paid to him by Murali, also the nom de guerre of an LTTE cadre.
Interrogation by a Navy team helped them piece together a profile of who Jeevaratnam was and what he has been doing. Here is an account:
Jeevaratnam is from Alvai South in the Jaffna peninsula. He was born on October 13, 1975 in Jaffna. He studied up to Grade 10 in a Jaffna school. In 1994, with the help of his brother-in-law, he joined the LTTE and was in a camp in Kopay. He was then sent for training to a camp in Nunavil also in the peninsula. He was later attached to a medical unit in Nallur under Manoj. In 1995, when the Army launched Operation Riviresa, he was treating wounded guerrilla cadres. Later, he was also wounded and was admitted to the Chavakachcheri hospital. Thereafter he was trained in intelligence gathering.
For six months after July 1996, he was in an LTTE camp for intelligence operatives in the North. More than 100 cadres were undergoing training there. He was given the registration number Avanna 883 and the nom de guerre Muththu. After training, his handler was Ravi Master. Posing off under the name of Nadarasa Inbaruban, he was assigned to collect intelligence in Mankulam and Odusuddan areas. Ravi Master then ordered him to proceed to Mannar. There he posed off as a trader and began collecting information on the activities of Security Forces. There he met Navashi and Kumar, two persons who were also working for the LTTE under cover.
Ravi Master then ordered him to proceed to Colombo in 1998. For this purpose, he (Ravi Master) had obtained the help of a Police Constable named Zarook. Having spent ten days in Colombo, he was arrested by the Police. He gave them an alibi and pretended he had no connections with the LTTE. He was later released. He travelled to Mannar. Ravi Master assigned him to an intelligence camp in Periya Madhu.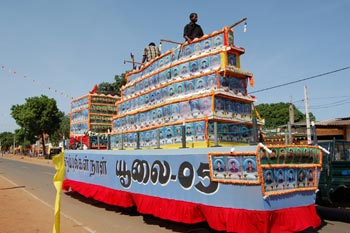 A float with the photographs of Black Tiger guerrilla cadres killed in the separatist war moves along the A-9 highway at Kilinochchi.
At this camp, he met the leader there. His nom de guerre was Kroner. He and ten others were dispatched for a Black Tiger training camp. After a disagreement with Kroner, he had complained to LTTE intelligence wing leader Pottu Amman. He was then re-assigned to be a guard at an LTTE prison. Later Pottu Amman had sent him to operate as an undercover agent in Mannar.
During that period Jeevaratnam and his colleague Thiagaraja were responsible for several attacks. Among them was the shooting of Army intelligence officers Nazeer and Ratnayake in the latter part of 1999. Ratnayake died later. In October 1999 they shot dead Anton David, a PLOTE (People's Liberation Organisation of Tamil Eelam) cadre. In early 2000 they also shot dead Ravi and Suresh, members of a rival group operating in Mannar.
In 2000 he was ordered to report to Madhavan Master at the Neeralan camp in Puthukudyiruppu. In May, that year, he was asked to move to Trincomalee and work for Thavarasa, head of LTTE intelligence in the district. Under his instructions, he went to Sampur and later to Hatton. He posed off as a dried fish trader and lived in Hatton for over a month. He later returned to Sampur and reported to Siranjit Master. He was ordered to travel to Colombo.
Arriving in the City, he worked at Vijayalath Hotel in Bambalapitiya for about four months. During this period he was collecting intelligence and passing it over to a contact who met him. He soon received instructions to obtain a driving licence. He heeded the order. Later, he was introduced to Aravindan and Kannan. He was asked to work together with them in Colombo.
Later, Aravindan arranged for him to travel to Trincomalee. There he was asked to work for Michael Jeyaraj, a dealer in fish. He had his business premises at 719 Anbuvelipuram in Trincomalee. In his new employment, he was driving a lorry transporting fish to Colombo, Wennappuwa and Chilaw. Aravindan had given Jeyaraj Rs 700,000 and told him to purchase a freezer truck. He obtained the truck. Jeyaratnam drove that truck on the same route transporting fish. In January 2006, hardly two months after the Presidential elections, Aravindan asked Jeevaratnam to take the freezer truck to Sinnawan. He was in Anandapuram. He was asked to return in ten days and take delivery of the truck. The truck had been taken to guerrilla controlled areas.
When Jeevaratnam returned to Anandapuram and took delivery of the truck, he had been told that a special compartment had been built in the vehicle. He was told that his handlers would give instructions on how to make use of it. When he returned to Trincomalee, he used the freezer truck to transport fish to Colombo, Kandy, Wennappuwa and Chilaw. In addition to transporting fish, he was then asked to transport biscuits from Trincomalee to Wanni. He had often driven past the Entry-Exit point at Omanthai with large quantities of biscuits. In the secret compartment, he had carried bags full of documents. On some occasions Sugath in Negombo, who gave these documents had also placed explosives and weapons in the secret compartment for delivery to Wanni. Some of the documents had been brought by passengers from foreign countries who arrived at the Bandaranaike International Airport.
He had also transported explosives and weapons from Trincomalee to Batticaloa, Vavuniya and Karadiyanaru areas using the secret compartment in the truck. Intelligence sources believe these may be from military hardware the LTTE had successfully smuggled into Trincomalee district through the deep seas.
On August 10, 2006 Jeevaratnam was ordered to take his freezer truck again to Anandapuram. He was asked to hand over the truck to Sinnawan. The next day, after they were loaded with explosives, the truck was returned to him. Gnanavel of the LTTE who was in Kilinochchi then gave him detailed instructions. He said the truck should be kept in close proximity to Colombo. He was told to hand over the truck to a person when he received a call on his mobile phone. That was to come from Babu in Canada. On August 11, 2006 he had travelled from Wanni to Vavuniya in the freezer truck. The next day he had arrived at Wennappuwa and stayed for several days with Podi Kolla.
In a significant development, Jeevaratnam said, his boss in Trincomalee, fish trader Michael Jeyaraj and his family left for India. They left in an LTTE boat, crossed the Palk Straits and went to an undisclosed location in Tamil Nadu. At that time Jeyaraj had given him a letter. In that he had authorised Jeevaratnam to be his (Jeyaraj's) representative and pay monthly instalments to a finance company from whom the balance money had been obtained to purchase the freezer truck.
When he was in Anandapuram, Jeevaratnam had disclosed that he saw other vehicles being fitted with explosives. One was a green Nissan Sunny XL. The spare tyre inside the boot was removed and stuffed with explosives. A secret compartment was also built in a red Tata Double Cab with a blue body. It was also packed with explosives. Both vehicles were sent to Colombo. In the freezer truck, Jeevaratnam was requested to transport a motorcycle. Its petrol tank had been removed, a secret compartment welded and explosives placed in it. Jeevaratnam had delivered it to a LTTE camp in Karadiyanaru.
The fact that the freezer truck, loaded with a lethal cargo of over 1,000 kilogrammes of explosives, was moving around in areas near Colombo would have roused suspicions. Investigators believe the guerrillas planned to use the truck at a location outside the City to target VIPs. They say this was why the truck remained parked at a house in Wennappuwa for some days. The reason for attacking a VIP outside the City was in view of difficulties they have encountered due to tougher checks at various points. Compounding the situation further, they believe, is the hurried exit of Jeyaraj from Sri Lanka to South India. Since a VIP target was about to be taken, it was felt he would face arrest when investigations commence. For obvious reasons, some of the details uncovered by the Navy interrogators and by the Police cannot be revealed. They include leads that may result in the arrest of several others.
A disturbing aspect of the investigations into the two recent detections is the inability of the authorities to uncover the origins of the plot. Though it is known that LTTE units in the Wanni were masterminding them, the use of handlers overseas forces the investigators to stop after unravelling details of the operatives tasked for the job. They also fear that some vehicles including freezer trucks would have already entered the City of Colombo and suburbs undetected raising fears of possible attacks.
Some state intelligence agencies have warned that guerrillas plan to mar Government plans to celebrate the upcoming military victory at Toppigala on a large scale countrywide. They believe the lull during the "Black Tiger" week also points towards this. Though troops are expected to seize control of the area within days, the guerrillas have been offering stiff resistance. This is whilst their cadres were making a gradual withdrawal. In the fighting on Friday, two officers (a Captain and a Major officiating as Commanding Officer of a Battalion) and five soldiers were killed. A further one officer and five soldiers were injured. Army sources in Batticaloa say the deaths and injuries, they suspect, were caused by Multi Barrel Rocket Launcher (MBRL) fire. At last Wednesday's meeting of the National Security Council, President Rajapaksa took stock of the progress made by the troops so far. He raised several probing questions from Army Commander Lt. Gen. Sarath Fonseka who gave a presentation.
The LTTE leadership commemorated "Black Tiger Day" with a ceremony in the Wanni. Internet system providers have blocked the Tamilnet website reportedly on Government instructions, but the they have denied responsibility. Yet, many have been able to now access this website through alternative methods proving that blocking it has not worked.
The Tamilnet gave an account of the commemoration event marking the Black Tigers day. LTTE leader, Velupillai Prabhakaran had addressed a group of Black Tiger cadres at this event on Thursday. It said: "The LTTE leader addressed the Black Tigers after lighting the flame of sacrifice at 7.05 p.m. the time of the death of first Black Tiger, Captain Miller. A total of 322 Black Tigers have been killed in action from Captain Miller's death in 1987 until 30th June 2007, according to the Tamileelam Heroes Secretariat in Vanni.
"Twenty years ago, on 5th July, 1987 LTTE's first Black Tiger Miller drove an explosive laden truck on Sri Lanka Army (SLA) troops garrisoned in a school in Vadamaraadchi, killing more than 40 SLA troopers. "Since his death, 81 Black Tigers, 63 men and 18 women, have died in action on land, and 241 cadres, 169 men and 72 women, have died at sea, according to the figures published by the Tamileelam Heroes Secretariat."
The Government is pinning its hopes on an early Security Forces victory Thoppigala. This is to declare that the entirety of the East has now been liberated paving the way for local government and provincial council elections. It will also see the launch of a grandiose development plan for the East.
The military focus would then shift to the North. Tiger guerrillas in the Wanni have offered fierce resistance to Security Forces advance. Thus, whilst normalcy and developments plans take priority in the East, in the North it would be more war. Naturally, how the LTTE responds remains the critical question.