A respected English newspaper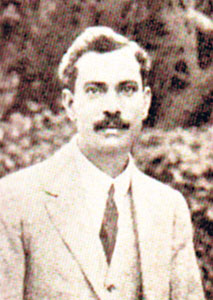 Armand de Souza, Editor 'Ceylon Morning Leader'
The early years of the 20th century saw new newspapers being published. The earliest among them was the, 'Ceylon Morning Leader,' which commenced publication on July 1, 1907. Armand de Souza (1874-1921), then an Assistant Editor of the 'Times of Ceylon,' became editor of the 'Morning Leader,' which post he held until his death in 1921.
The newspaper campaigned for democratic reforms of the Legislative Council to make it more representative of the people. Editor de Souza encouraged support for indigenous arts and culture at a time English language newspapers ignored them. The newspaper was described as, "a power in the land."
Editor de Souzsa's editorials angered the authorities so much that he was once sentenced to a month in jail but was released in six days due to public protests. After the communal riots in 1915, he wrote 'Hundred Days in Ceylon under Martial Law,' which criticized the colonial government's actions.
The 'Morning Leader' was one of four well-established English newspapers at the time the 'Daily News' was started in January 1918. 'Ceylon Observer,' was the oldest of the four and was popular among the older British residents and the missionaries. The 'Times of Ceylon,' was read by British merchants, planters and public servants as well as by a large section of the more well-to-do Ceylonese. With a circulation of about 4000 copies, it was considered the paper of the business man and was secure financially. The 'Ceylon Independent,' was supported by the Burgher and many old Sinhalese families. It had able contributors.
The 'Morning Leader' was considered the best of the newspapers at the time. Calling Armand de Souza a "brilliant editor," doyen of journalism H. A. J. Hulugalle wrote that the 'Daily News' could not succeed without ousting de Souza's ' Morning Leader' from the position it held. "During the ensuing years, the energies of the staff of the 'Daily News' were mainly directed to the task of producing a better newspaper than its chief rival," he wrote.
One of de Souza's sons, Tory became the editor of the 'Times of Ceylon' and the other was the university don, Doric.