Electronic industry on path towards rapid development
Sri Lanka has all the required attributes for rapid development in the electronics industry in the South Asian Region as Sri Lankan workers are among the best educated and most trainable in South Asia.
This has been clearly proved by young employees attached to Tos Lanka Company (Pvt) Ltd at Biyagama who are assembling and soldering flexible and normal Printed Circuit Boards using high speed chip mounting machines manufactured by Panasonic for markets in Germany, Canada and Japan.
Merrick Gunaratne, Executive Director of the company, who made these comments while showing a team from The Sunday Times FT the factory and its processes, also said the company has invested on training and development of staff to manufacture electronic products and components to international standards.
He revealed that the company as part of its continuous product development has already established its own Research and Development section and the majority of the work force have been trained in Japan under AOTS /JASTECA scholarships in quality oriented manufacturing process.
The workers at Tos Lanka were being provided with opportunities to undergo training in Japan for a period ranging from three months to one year. He said that this has helped to improve the quality of production. Female workers are the dominant force behind the 240-strong workforce at Tos Lanka. "They are agile and they have good eye sight. Those are the two key requirements for surface mounting," Gunaratne said.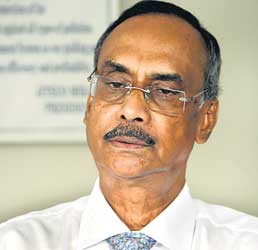 Merrick Gunaratne
Another plus factor is that females are following technical instructions to the letter. However he noted that as matter of policy the company accords equal opportunities to both males and females. He said: "There is no discrimination whatsoever."
Gunaratne revealed that in order to improve communal harmony at the work place the company recently enrolled two Tamil youths, Wijendran of Kilinochchi and Yogeshwaran of Koslanda.
These two youths have been given training in surface mounting and other electronic component assembling techniques for a period of about three months and they have perfected all the techniques. Gunaratne said both of them are now speaking good Sinhala adding that Wijendran is going to marry a Sinhala girl working in the factory after a love affair. Both of them were entering married life with the consent of parents of both families. Speaking in Sinhala, Wijendran said that he is very happy to be a member of the Tos Lanka workforce and the management has decided to send him to Japan for training for three months. He told us that he is living with his mother at De Soysa flats in Ratmalana.
Tos Lanka is a wholly owned subsidiary of Toslec Co, based in Kyoto, Japan, which is one of the leading manufactures and suppliers of electronic components to Matsushita Electronics, Hitachi Media, Richo Elemex, Nihon Densan, Japanese Storage Battery Co. Ltd., and Rohm Company.
It commenced operations at the Biyagama EPZ in 1998, with an initial investment of Rs 220 million. The company specializes in the Surface Mounted Technology (SMT) assembly of printer circuit boards, electronic guitar tuners and effectors, coils and electronic components for the automotive industry. The products are exported back to Japan, as well to American and European markets.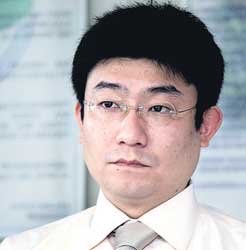 N. Tanaka
Tos Lanka is Sri Lanka's largest electronic assembling solution company and recently invested Rs. 700 million for a major factory expansion. The new factory will start commercial operations in July this year and will mainly focus on manufacturing LCD monitors, magnetic coil and energy saving lamps for the Indian market.
The company expects to access the huge Indian market through the Comprehensive Economic Partnership Agreement (CEPA). Gunaratne told The Sunday Times FT that "the government should focus attention on exploring the huge Indian electronic component market to enable around 40 local electronic parts manufacturing companies to secure direct orders from that country. Forty electronic component manufacturing factories are operating in Katunayake, Biygama and Kandy," he added.
Tos Lanka is a modern factory with manual and automated electronic assembly lines supported by chip mounting and wave soldering plants, together with extensive testing facilities. A senior supervisor of the company Asanga Dassanayake who showed us the assembling section of the factory disclosed that the company always ensures that it achieves zero defect quality standards and produce quality output to suit the requirements of its customers. Dassanayake who joined the factory soon after passing the G.C.E Ordinary Level Examination has received 18 months training in Japan.
Factory Manager N. Tanaka, a Japanese national, said he is highly impressed about the work performance and obedience of Sri Lankan youth who have the ability to grasp any sophisticated technical specifications with minimum instructions. He revealed that assembling and manufacturing of led lights, fan controllers and light dimmers as well as coil winding will be Tos Lanka's upcoming new products.