Sarala does Sri Lanka proud once more
The little star who did the country proud by winning the Best Child Actor of the World in an International Feature Film Award for her stunning performance in Oscar nominated 'Water' is to be felicitated by the National Film Corporation (NFC).
NFC General Manager Saman Weeraman told the TV Times that a ceremony will be organised to Sarala who is due to return in a weeks time.
On May 23, Hollywood's Young Artiste's Foundation presented the award to child artiste, Sarala Kariyawasam, who performed a highly acclaimed role of a child widow in Deepa Mehta's award winning controversial film.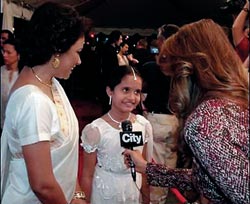 Sarala being interviewed at the Toronto International Film Festival.
"Sarala performed an absolutely outstanding role in a brilliant film that should have been given more recognition by Hollywood," said Maureen Dragone, President of the Foundation, which is holding its 28th consecutive year of awards, recognizing and honouring talented young child artistes all over the world.
"The young actress will definitely be better known in the future," Dragone further said. Sarala's award marks the highest award any Sri Lankan child actor has ever won in any performing arts in the history of Sri Lanka.
The Young Artiste's Foundation, which is awarding the title, has been helped in its selection by the Hollywood Foreign Press Association, which is also holding the better known Golden Globe Awards for adult actors and other artistes in the performing arts.
Sarala, an extremely bright girl who did not know a word of Hindi, had to learn all dialogue by heart, but ultimately acted so well, many critics were stunned by her performance.
When the film was presented at the Toronto Film Festival, a critic said, "The film is centered by the extraordinary performance of Sarala as the young Chuyia, a girl whose spirit remains unbroken. Her refusal to bend to her plight carries considerable emotive power and elevates Water from a harsh tale of deprivation into one of hope and the possibility of overcoming." Water was nominated to the Best Foreign Picture at this year's Academy Award.