Sampath sings with Pinakala Kumariya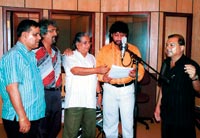 'Pinkala Kumariya' the maiden CD and cassette by Sampath Suranga Ratnayaka was recorded at Penguin Recording Studio, Kirulapona recently.
Music Directors Sarath de Alwis, Earnest Soysa and Gratien Ananda and lyricist Saman Chandranath Weerasinghe were present on this occasion.
Lyricists Ajantha Ranasinghe, Shantha Deshabandu, Hemasiri Halapita, Hector Wijesiri, Sarath Shantha Jayagoda also contributed to the CD.