Havies gun down the soldiers
* Havelocks 20 Army 10
A second half rally enabled Havelocks to defeat Army by 20 points (1 goal. 2 tries and 1 penalty) to 10 (1 goal and 1 try) in their Caltex League tournament Division One Segment 'A' match played at Havelock Park yesterday.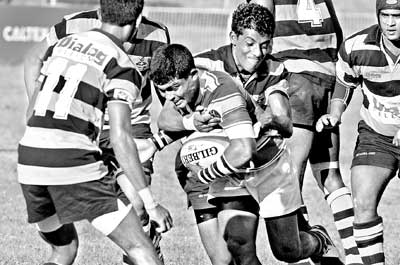 A Havelocks player looks out for break, but, is held back by Army defence. ( Pic by Ranjith Perera)
In a nut shell the game can be described as scrappy. In just the second minute of the game Army were awarded a penalty. Kapila Knowlton took the kick as Army's regular kicker Ajith Silva was sidelined due to injury. Knowlton's kick hit the outside of the right upright post. After that the game went from end to end with both teams unable to finish despite numerous phases with the ball in hand. The amount of turn overs to put it mildly was astounding.
Army finally broke through in the 17th minute when Knowlton formed the overlap to touch down near the posts. He made the conversion himself. Havelocks despite getting a number of penalties within in kicking range opted to kick for touch. On one such occasion after numerous attempts to breach the Army defense failed Havelocks took a kick at goal. Wing three quarter Zakir Badurdeen put the ball between the posts to cut Army's lead to four points. At lemons Army led by seven points to three.
Army seemed to be fading towards the end of the first half and paid dearly for it in the second. Havelocks took the field after the breather with the bit between their collective teeth. In just the tenth minute wing three quarter Chanaka Fonseka touched down after a sweeping backline move. Badurdeen failed to add the extra points. The Park lads were enjoying an abundance of possession and just nine minutes later Fullback Dilip Methruwan formed the over lap to touch down under the posts. Then Badurdeen put the icing on the cake. Minutes later Knowlton got Army back in to the game with a well taken spot kick. This spurred Army to launch a few attacks of its own. But indecision and bad ball handling ensured that Havelock's line was not breached again.
Havelocks Number Eight Tyronne Harrision who had a fine game capped it off with a push over try. But the game will remembered more for the aimless kicking and ball handling rather than for any scoring done by either team.