Aura of old-fashioned hospitality
A decade ago staying as a guest in a tea plantation bungalow could only be arranged by getting to know the planter in residence. In our "Plantation Homes" series in The Sunday Times of February 9, 1997, we featured the planter's bungalow at Hellbode Estate, and many people wanted to stay there. At last this is possible as the bungalow has been restored and re-styled as The Lavender House.
The Lavender House is set in the Hellbode tea estate, a few minutes drive up from the entrance gate which is by the 6km post after Pussellawa on the A5 from Gampola to Nuwara Eliya. It is an independent enterprise restored and run with dedication by James and Gabrielle Whight, the owners of Colombo's popular Cricket Club Café. The Whights, who hail from Australia, have long lived in, and loved, Sri Lanka.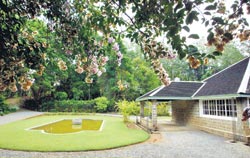 Lavender House: Set amidst vibrant tea, woods, mountain views and terraced lawns
They retained Sri Lanka's top craftsmen, furniture makers and suppliers to help them create a hill country residence that everyone who stays there would love to call home. It's not just the simple, spacious grandeur of the bungalow that is so appealing; the seven-acre setting of vibrant tea, woods, mountain views and terraced lawns proves there are still niches in Sri Lanka where all is calm and orderly.
Niche is the apt word as The Lavender House caters for that niche market of discerning guests who know and want what's traditionally the best. Sri Lanka has a treasury of such properties whether they are heritage homes or contemporary villas. To stay in them is to experience the aura of old-fashioned hospitality. The Lavender House is a destination in itself, a prime reason for visiting Sri Lanka.
The transformation to this feel-good realm begins with the household staff warmly greeting new arrivals at the portico as fountains bubble in the front garden. The bungalow is broad and deep, built over 100 years ago of exposed granite blocks, neatly pointed, and with an assiduously restored wooden shingle roof. Music wafts from well-toned speakers throughout the recreation areas (but not in the bedrooms) so guests are ushered into the hall in a melodious mood, even after a long drive. The ceiling of the hall, which used to be the dining room, is antique teak panels, imposing traditional dignity on the ambience.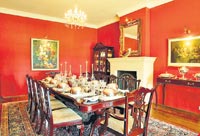 Dining in style: Candelabra, crystal and the deep burgundy walls set the mood
On the right is a light-filled room with paned casement windows, called variously the conservatory, the music room (it has a baby grand piano) or the television room. (Yes, there is satellite television set here but it is discreetly concealed in an almirah.)
A curiosity is the remnant of the room's old wall with a height chart begun in 1902 with pencilled signatures of children and boisterous adults during the century since then. The last addition shows the height of a certain young Miss Emily Molly Whight, 2005. The room has arched French doors giving access to the deep pile lawn that leads to the lower level swimming pool, sunk below the skyline.
The bungalow is constructed around a split, glass-walled inner courtyard and is a warren of long passages and sumptuous suites. The lounge, with a portrait of Sir Winston Churchill in pride of place above the mantelpiece, is flanked by a pair of silk-covered wing chairs. Its blatantly nostalgic air is given a jolly shake up by a couple of bright, flamboyant portraits with a Pacific allure. There are properly-lit whimsical paintings and prints hung throughout the bungalow, giving a hint of the fun it must have been collecting them.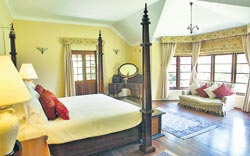 Four poster beds and wooden floors: One of the five bedroom suites
In a more sombre mood the dining room has walls of deep burgundy, reflecting the serious content of the attached walk-in wine chamber. This is stocked with fine Australian wines as well as some classic French vintages. Crystal glasses sparkle in the glow from chandeliers and candelabra on the long, locally-made table for 10. A second, round table is in the room's bay window for couples.
Diners are summoned politely by the dulcet tones of a resonant Chinese gong. There is a choice of four set menus both at lunch and dinner, as well as a curry repast and breakfast either Western or Sri Lankan. Eggs come from the bungalow's own hens, and the vegetable garden will soon be ready to harvest. The large kitchen, with its black and white tiled floor and well stocked, neatly stacked cupboards and shelves, looks like an illustration from "House & Garden." Guests are welcome to peep in. It is designed for maximum efficiency enabling the sole cook to produce plantation fare fit for trenchermen, as well as for the fastidious.
Each of the five suites has polished wooden floors, an array of brass light switches, silk blinds and curtains, a huge fireplace (lit on request), a sitting area and a private garden with French window access. Each bathroom is gloriously retro with a chain flush toilet with wooden seat, stand alone bath tub with shower and lashings of hot water, and a vanity table loaded with toiletries.
The beds are sturdy and locally made, with mattresses designed for blissful slumber. They are smothered with lush duvets and oodles of pillows and silk cushions. Some rooms have beds with curved headboards "Thai" style, while others have four posters. The master suite boasts a bed as large as most bathrooms, with ornate, ceiling high corner posts like spires.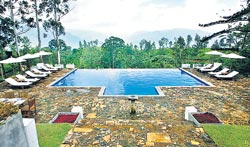 The pool overlooking the lush tea estate
A billiard room with sporting prints on its walls and an old tea-weighing machine as an ornament, has been created out of the bungalow's original kitchen. In the garden there is a clay tennis court and, built on a granite platform poised above the view, is a swimming pool perfect for a few laps before breakfast, sun bathing and a barbecue lunch. Hidden speakers send soothing music cascading around the arbours.
Unusual for a bungalow of this size, the house staff consists of just four people, but all are delightfully competent in taking care of guest needs. The intimacy of The Lavender House makes it ideal for a group of friends or large family holidaying together. Bed and breakfast for two starts at Rs 17,500.
As well as its fragrant name, The Lavender House exudes the sweet smell of success, setting a new benchmark for sophisticated bungalow hospitality. www.thelavenderhouseceylon.com