Dons turn masters of humanity for street children
It's a new lease of life for a hitherto-neglected segment in society — the street children. At Sanhinda Children's Home in Meegoda, street children receive the love, care and comfort which they had been deprived of and enjoy a happy, carefree existence. They are also given a decent education to face life's challenges and guided to a promising future.
The Sanhinda children's home is the result of a research project initiated by Prof. Nandasena Ratnapala of the Department of Biology, Anthropology and Criminology of the University of Sri Jayewardenepura.
In an interview with The Sunday Times, Dr. Ratnapala said that a survey conducted in 1991-1992 had revealed that there were about 2000 street children in the country, but regrettably no one was concerned about this neglected but highly vulnerable segment of the society. "We are always doing research but we hardly do anything to solve the problems we are confronted with. Therefore, when Dr. Sunil Rajanetthi, who was also involved in the project with me, was interested in doing something for these street children other than the research we decided to go ahead," he said.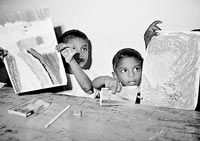 Children show their art skills. Pix by Athula Devapriya
The original idea was to set up a small place for these children to keep them at night as it is mostly during the night that these children are sexually abused. With the little donations that came their way, lecturers, students attached to the department and their parents joined hands to construct a small building at Pettah where lodging, food and clothes were provided for the children.
"One day, quite unexpectedly, a gentleman working in Germany came to us and said he would like to donate us a land in Meegoda to expand our venture. After that Lalith Gamheva and Christian Eckert of the Serendib Organisation, the funding agency, came forward to help us in a number of ways, covering areas such as food, health, education, discipline and skills," Prof. Ratnapala recalled.
The implementing agency in Sri Lanka for the project is Nestwaerme e. V. — a foreign humanitarian organisation. The Serendib Organisation and Nestwaerme e. V. have opened up anothr centre — Varama — in Hikkaduwa. It functions as a drop-in centre for beach children.
When the children were first brought in, they had many illnesses and deficiencies due to the lack of proper nutrition, but with the assistance of the Serendib organization, they are now being provided with well-balanced meals. Apart from the formal education given in schools, instructors come in to teach the children English, mathematics, and science as well as dancing, music, arts, sports and scouting after school.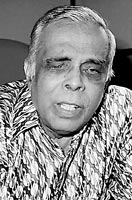 Prof. Ratnapala
To inculcate good morals and values, Buddhism, Christianity, Islam or Hinduism are taught. "Although most of the children here are Buddhists, we have no discrimination in teaching or practising any religion. Here we have Sri Sathya Sai Baba followers, too. After their A/Ls or O/L s they are trained in various skills such as masonry, carpentry, etc. Unless we give them this training to develop their skills, they end up becoming drug addicts and thieves," Prof. Ratnapala said.
Prof. Ratnapala has a deep understanding of life and the problems of the beggar community, about which he gained first hand experience when he spent years on the streets disguised as a beggar gathering information. He subsequently wrote several books on beggars, drug addicts and prostitutes.
Shanhinda Home which was established in 1995 houses 63 children between the ages of 4 and 18. There are 17 girls among them with five staff members — three educational officers, an administrative officer and an officer in charge of the kitchen to care for them.
Most of the children are orphans. The parents of the others are allowed to come and stay at the home with their child on one day of the month as a guest if they wish, but are not allowed to take their child away even for a short while. "After they reach the age of 18, we find them employment and a place to live because by that time we consider the individual a grown-up," he said.
"This is the first time that a university has done a project of this nature," says Prof. Ratnapala adding that the university's senior criminology lecturer Dr. Sunil Rajanetthi, Sociology Department head Dr. Praneeth Abeysundara, its former head Edwin Ginihagama, ASP Ranjith Dayaratne and Additional Secretary of the Sanhinda P Sivakumaran are also involved in the project.
The help they receive from the village community is immense, he says. Buddhist priests in the nearby temple as well as doctors and the staff of the Homagama hospital play a major role in giving assistance.
Professor Ratnapala has plans to extend the project to other parts of the country such as Badulla, Kurunegala and Talawakelle.
"What I want is for these street children to become good citizens and not to become drug addicts, prostitutes or criminals," he says.
That the project is making a difference in the youngsters' lives is all too evident. Sixteen- year-old Ramesh was brought to Sanhinda at the age of four when he was found idling at the Pettah bus stand. Today, on finishing his studies at a fairly satisfactory level, a joyful Ramesh tells us that he has found employment at a nearby bakery for a monthly wage of Rs. 8,500.
Like Ramesh, there were many other children, including the youngest member at the home Salman (aged 4). They told us of the happy life that they lead at Sanhinda where they get to sing, dance and play to their hearts' content.