Myhome_myoffice.com
Pradeep shares his experience of working from home for a US company via internet
Would you leave a regular nine to five job, with a steady income, and choose to take a chance on a different sort of enterprise, which may or may not succeed?
Pradeep Bemmulla is someone who has taken that risk — and prospered. Tired of the stresses and monotony that are often part of the corporate world, he chose to break away and explore the possibilities of what is becoming an increasingly popular work-option worldwide — internet-based home-working and outsourcing.
"Working from home is now a trend in many countries," says this 37-year-old MBA graduate, who has held many posts from being a banker to a software consultant. Almost all the jobs required long hours, and he hardly spent any time with his wife and two young daughters. "I desperately wanted to be able to do that," he explains, and it just wasn't happening. What if he were able to make the same income from home?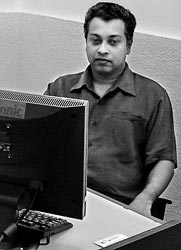 Pradeep: Clicked the tiny link to success
He had always been intrigued by the many possibilities offered by the internet. "I must have spent hours surfing, looking for opportunities, and sent out thousands of emails before finally something clicked," he says. It was a tiny link, at the bottom of a website, advertising for home-workers in India that led to his present career.
The US firm that outsourced back-office work, mainly to India, asked him to be present for an online interview at 4 a.m. The job — sorting their email — required no financial investment or previous experience.
The following week, Pradeep quit his job as personal assistant to the chairman of a reputed company, and, with his single computer and ADSL line, started on his new job. The company trained him online, and within a few weeks he had established a comfortable routine. "My time was my own — I fixed my schedule in such a way that I was able to spend time with the kids after school."
Working from home also meant that the time and money spent commuting was saved.
There was plenty of work to do and his employers suggested that he start outsourcing it to others. Setting up a small office in the garage of his house, Pradeep decided to expand further. He now has eight people working for him all from their own homes. They mainly keep in touch through instant messaging services such as MSN, ICQ and Gmail, which also reduces communication costs.
The work they do includes writing, word processing, data entry, internet research and transcribing from audio files. "The work is quite easy, and we may do as much or as little as we wish," says Dileesha Bulathsinhala, a housewife, who does internet research for Pradeep. While enjoying the freedom to be at home with her six-month-old child, she feels that she will never feel compelled to go back to an office environment. "Even the income we get from this is quite sufficient," she says.
"My goal is to provide employment for professional stay-at-home mothers," says Pradeep, adding that the potential for internet home-working in our country is tremendous. Many European countries and the United States are now choosing to outsource such work to Asian countries. In India, this has already become very popular — Sri Lankans are still unaware of these opportunities, he says. "Anyone can do what I did, but they have to be willing to take a risk — a calculated one."
Want to work from home?
Never pay for the chance to work from home. Genuine employers will rarely require any investment on your part. Do your research first and be wary of fraudulent websites and online services which advertise work from home opportunities. Always read the fine print and check whether the organisation is legitimate before signing up.

Stick to a schedule. While working at home means greater independence and flexibility, it also requires a level of self-discipline, motivation and organisation. Create a realistic schedule each week, and do what it takes to stick to it. This includes building in breaks for lunch, personal calls, emails, and other brief intervals from your work just as you'd have in a traditional office setting.
Create a dedicated work space. Select a quiet space where you can work uninterrupted.
Obtain good resources — a reliable computer, high-speed internet access and a mobile phone will help with your productivity.
Working from home may be the ideal solution for those who are seeking a way to balance their work and family lives. Yet, personality is a key factor, and it may not suit everyone. If you are the kind of person who loves the everyday social contact with colleagues or working in a team, then this may not be for you.