Mapping every green way
LOCALternative Sri Lanka: The Map for the Responsible Traveller. Published by Sewalanka Foundation.
Women, male folklore claims, can't read maps. According to men this is because during prehistory they traversed the land to hunt meat while women stayed at home to grow fruit and bear children. Indeed, research at Edinburgh University has shown that women are not as proficient as men at remembering the location of plain boxes on a grid. However, women are just as proficient when the boxes are replaced by pictures of objects. They concentrate more on 'featural' aspects than 'spatial' ones when trying to remember information, which could explain why their map-reading abilities differ to men's. As it happens, much of the charm of early maps is their featural aspects, or more precisely their environment-inspired embellishment. Sri Lanka – rather Taprobane or Serendib - was often portrayed with icons of elephants, jungle and mountains, while whales and dolphins crested the waves in the surrounding sea. With little else to present, apart from a port, town or fort here and there, these maps were, in essence, unintentionally green and gender sensitive.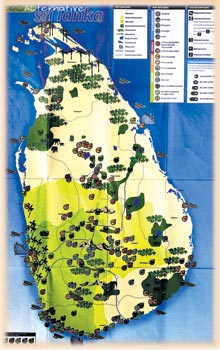 Modern cartography generally displays little green romance or gender sensitivity. But now along comes a very distinctive map that uses such icons to provide a summary of Sri Lanka's green tourism. Furthermore, the portmanteau-titled LOCALternative Sri Lanka: A Responsible Travel Map incorporates essential information about the featured sites on the map's reverse. This map is of considerable importance, for although many tourist guidebooks to Sri Lanka have surfaced in the past two decades, the gathering together, categorisation and uniform description of the country's green destinations is lacking.
The explanatory text on the map's back cover emphasises that LOCALternative "spotlights places where nature and animals come first" and "identifies people and organisations that try to act responsibly". It laments that "in the face of conflict and modernisation, many Sri Lankans are losing touch with their traditional cultures and diverse heritage". It exhorts responsible travellers "to open themselves to experiences that challenge their preconceptions" and states that it "imagines a country in which, thanks in part to responsible travellers, nature and animals flourish".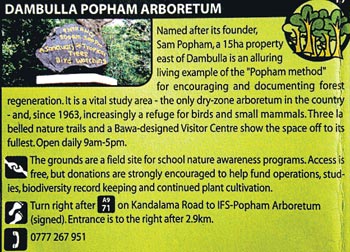 The map harks back to the beginnings of cartography in that it shows a country devoid of roads and urban sprawl. Just towns and provinces are marked, and discreetly so. It has a brown and green-graded landscape to depict the various climate zones and protected natural areas, and blue thread to mark the course of rivers. It has pictures of trees to denote thick forest. Mountains and elephants are other dominant, self-defining icons.
Sri Lanka's appearance on maps began around 150AD, when Ptolemy drew a sack of coal-shaped island featuring a picture of an elephant at one side. However, LOCALternative reminds me especially of Sanchez' map of Ceylon, produced circa 1560-65AD. Flora and fauna are most evident in this map, with coconut and cinnamon country accurately marked, and elephants, stags, wild boar and jackals sketched in.
Sprinkling the landscape of LOCALternative are 170 numbered map site icons that fall into four categories: People, Places, Nature and Accommodation. Under the People category can be found an exceptional selection of organisations, such as the Sinharaja Forest Communities, Navajeevana Disabilities Programme, Madaduwa Ecotourism Village, Sri Lanka Wildlife Conservation Society, Sigiriya Responsible Tourism Initiative, Rainforest Rescue International, Dambana Vedda Community and the Sri Lanka Ecotourism Foundation.
The Nature category comprises a number of worthy green projects and destinations, among them the Elephant Transit Home, Bar Reef Marine Sanctuary, Kottawa Rainforest and Arboretum, Salgala Meditation Centre, Field Ornithology Group of Sri Lanka, Muthurajawela Sanctuary, Peak Wilderness Sanctuary, and the Turtle Conservation Project.
As already mentioned, the map's reverse contains boxed information on every site – "site descriptions" - the boxes primarily identified by their icon numbers. Although the map is fairly large (57cm x 88cm), fitting the 109 boxes, most of which include a small picture, was an intricate task. But it worked.
The site descriptions show considerable research, are sensibly standardised, and are well-written. There are also location directions (for those who were wondering how the map worked without marked roads!) and contact information.
It's hard to choose a box for readers to digest, but here's the site description of an organisation that should be of interest to south coast visitors: "Some of the tsunami-affected coast was stripped of vegetation; rebuilt homes are on land left bare by construction. Trees for Life is delivering 95,000 free mature trees (91 species) where they are needed most – at least 14 villages of the southern coastal belt. Visitors to the nursery are encouraged to donate Rs. 1,000 for any tree to be planted at any location."
In addition to the small boxes on individual sites there are larger boxes with information on collective sites, such as the twelve featured waterfalls, seven UNESCO World Heritage Sites (described as "Sri Lanka's greatest hits"), eighteen national parks ("Sri Lanka's strongest natural asset"), a handful of adventure tour operators, five Hindu temples dedicated to Lord Shiva - the Pancha Ishwaram – and the sixteen pilgrimage sites hallowed by visits of the Buddha - the Solosmasthana – rarely mentioned in tourist publications. Such is LOCALternative's value.
It is remarkable that enough green information to fill a booklet appears on the map's reverse, although it means the font is small, but not unmanageably so. One improvement could be to the box numbers, which are not prominent enough, thus rendering box identification more tedious than it need be. Another improvement to any second edition could be to the map's cover, which, to my mind, is unattractive and does not adequately illustrate the green theme.
Such a publication requires a specialist compiler. In this instance it is Ethan Gelber, an inveterate traveller who has visited some 75 countries and who is a passionate believer in the authority of local wisdom, especially in managing natural and community affairs. LOCALternative is certainly imbued with this belief. www.localternative.com