Explosives detection triggers ban on vehicles from Tiger territory
The government has imposed a ban on trucks, lorries and vans coming from LTTE-controlled areas to Colombo after police detected an explosive-laden lorry on Friday at Nikaweratiya. Residents in Tiger-controlled areas have been issued instructions to this effect.
SSP Sisira Mendis said such vehicles would not be allowed south of Vavuniya. The lorry laden with explosives weighing up to a 1000 kilograms, which was detected at a road block at Kotavehera at Nikaweratiya on Friday evening, is the single biggest detection of explosives yet, Police said.
The explosives had been concealed on the two sides of the lorry that was transporting coconuts , Kotavehera Inspector I..P M. Kobbewela said.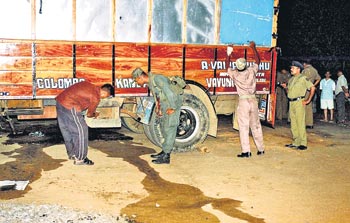 The lorry being checked
When the vehicle was stopped near the road block, police had been unable to detect anything suspicious after an initial search. However, their suspicions had been aroused after the men in the vehicle tried to bribe the Police.
A young boy at the scene had also come to the assistance of the Police. He had informed them that his brother who is attached to the bomb disposal unit of the Sri Lanka Army 6th regiment was on leave and could assist them.
The soldier Corporal Gamini Dissanayake told The Sunday Times that when his brother informed him of the suspicious lorry, he had immediately rushed to the scene and had assisted the Police at the checkpoint. They had detected the explosives packed into 47 different cases with wires connected and only two wires remaining to be connected to set off the explosives.
The Puttlam and Kurunegala army disposal units had been informed of the find soon after, Corporal Dissanayake said. The driver of the vehicle, a resident of Kilinochchi and the assistant, a resident of Vavuniya were taken into custody. The owner of the lorry is also resident of the north.Initial investigations have revealed that the suspects had on the 27 th of last month loaded a stock of coconuts from Kurunegala and taken it to Puldalu Oya where some of the load had been sold .It had been traveling to Puttlam via Kotavehera when they were detected.
The suspects had attempted to bribe the policemen on duty when they were stopped, but the Policemen had stood firm and confiscated the lorry thus preventing a great tragedy, DIG North Western Range Pujitha Jayasundera said.
Two other persons who had been in the vehicle had fled the scene and the Police have launched a search operation to find them.
Police say the explosives may have been loaded somewhere in the Nuwara Eliya area. It is also suspected that the lorry was meant to launch an attack on an army camp at Puttlam where a passing out parade was scheduled for Friday in which over 400 soldiers were passing out and hundreds of family members had also gathered there.
A special police team from Colombo has been dispatched to the area for further investigations.