Most of those abducted have returned, says President
President Mahinda Rajapaksa, while declaring that a majority of the complaints regarding abductions were false, has appointed a committee to look into the grievances of the families of those who have reportedly disappeared.
The President's Office yesterday quoted the president as saying that 90% of the people who were reportedly abducted had returned.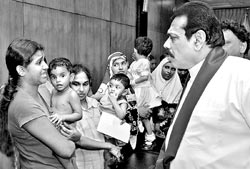 President Mahinda Rajapaksa met families of missing persons at Temple Trees on Friday. Here he talks with a young mother. Pic. by Sudath Silva
The President had made these comments after he met some family members of those who had reportedly disappeared. He said some complaints were purely politically motivated and they hindered investigations regarding genuine complaints.
The President said these abductions were not carried out by one organisation but those behind them belonged to various underworld gangs which worked with terrorist or politically-affiliated groups.
He said most of the complaints had turned out to be instances of elopement and people including domestics had gone missing due to family disputes.
"For example, from the 11 complaints made to the Panadura police, eight have been withdrawn as the persons who had reportedly gone missing had returned. In Kebitigollewa, all 11 complaints had been withdrawn.
However, the relatives who met the President alleged that their sons and husbands had been kidnapped and though in some instances the ransom had been paid they had not returned.
The President assured that their complaints would be looked into shortly. The Up-Country Peoples' Front leader, P. Chandrasekaran who accompanied the families for the meeting with the President said he had asked the President to appoint a special committee to look into the cases of missing people as there was no one to inform the relatives about the progress on investigations.
"We had to always go to the President to inquire about the progress of the investigations. So, we want a special committee to look into this issue," he said.
The committee appointed by the President comprises Transport Minister Dallas Alahapperuma, Minister of Construction and Engineering Rajitha Dissanayake, Deputy Minister for Vocational Training and Industrial Education, P. Radhakrishnan and CMC member Vasudeva Nanayakkara. Police Chief Victor Perera, CID chief D.W. Prathapasinghe and Mahanama Thilakaratne, of the Commission of Abductions and Disappearances were present at the meeting.