NE Tamils in a quandary - are we Sri Lankans?
"...isn't it our right to be in a safe place?"
We are homeless... we fear to settle in unsafe areas
While Tamil political parties expressed their objections, police yesterday moved in to check the identity of inmates living in lodges before deciding whether they would be allowed to remain in Colombo or face immediate eviction to their villages.
Police said that lodge occupants with no proper identity would be ordered to move. Tamils in possession of regular identity cards living in lodges and in rented houses in Colombo say they live in fear that they may be arrested anytime if the police feel suspicious.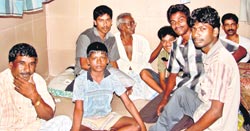 Boys with hopes of getting jobs
Muttiah Pillai, a lodge owner in Pettah said "There are families and individuals coming from the north-east areas and from the hill country. Some come for medical treatment, some for studies, while others come to obtain visas and a few to earn little money... We can't believe why they are doing this to all Tamils, he said. "…We are Sri Lankans and isn't it our right to be in a safe place especially when the north and east is a war zone. We are homeless and most of all fear to settle in unsafe areas with our children…"
According to Mr. Pillai there are 56 lodges around the Pettah and Dam Street area. All of them keep records of the people who stay in these lodges he said.
Most of us keep police records, and are ready to produce these records to the army at any moment. He said the Identity Card numbers of the people too were recorded and there were cameras in lodges. All details of the persons were computerized for reference he said.
Though his hometown is in Jaffna, Mr. Pillai has lived in Colombo since 1966, According to him, police claimed there were 250 suspected LTTE cadres in Colombo and it was difficult to find them because of the numbers of Tamils living in the lodges of Colombo.
S.B. Yoganathan, another lodge-owner in Pettah said that people coming to Colombo from the north and east had to get the clearance from the Army. A copy of this clearance note was needed to stay in the lodges he said.
"There are many Tamil youth desperately wanting to go abroad but haven't any financial support. They are unable to find jobs either in Colombo or in their hometowns. Due to this some of them come with agreements with unregistered agencies and have no proof that they are hoping to go abroad. Ultimately these youngsters end up in jail as suspects" he said.
S. Sridhar, a lodge owner in Pettah said that most of the families stay in Colombo for long periods, as they were either too afraid to go back to their home towns, or faced delays in obtaining passports and at times when either breadwinner of the family or a child is hospitalised over a long period of time.
Colombo District MP Mano Ganeshan, speaking on the crisis said the problem faced by these people should be seen as a humanitarian crisis. He demanded that authorities treat Tamils as human beings and not as cattle.
"With the support of the UNP, we are watching the situation closely and hope to take up this issue in Parliament" he said. Following complaints of the police enforcing an eviction order on lodgers in Colombo, UNP MP's Ravi Karunanayake and Lakshman Kiriella visited the Pettah police and held discussions regarding the issue.
However when Ravi Karunanayake confronted the IP of the Pettah police station, he claimed that there had been an overreaction to a comment. He claimed it was impossible to evict nearly 10,000 persons to catch a suspect or two. Mr. Karunanayake said while the government was targeting terrorism, they had to consider the human aspect of the problem. He said the stance of his party was that when decisions were taken they had to be made in a responsible manner. If this was done he said the UNP stood ready to assist, but demanded there be fair play.