Staying ahead
It is remarkable in a way, that computers have a myriad of applications in almost every conceivable aspect of life on the planet and with even research being conducted beyond the gravitational constraints of earth. Whether you go as far back to the invention of the abacus, or to the late 19th century when IBM was founded (as the "Herman Hollerith and the Tabulating Machine Company") the original need and driving force for efficient calculating and computing capability was felt in the business world.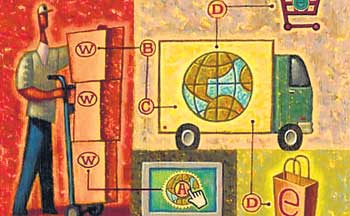 In the past, IT was seen as a set of tools that could be used to streamline business processes, make them more efficient and cost-effective. Most experts saw IT as an automation tool that would help them reduce human errors and labour costs, and most employees feared that technology would make their jobs redundant. It was just a measure of how little we actually understood about the effects that the flow technology into our workplaces and homes would really have.
Initially though, the introduction of technology at the workplace took the form of Total Quality Management (TQM) and Business Process Reengineering (BPR) strategies. Even though such strategies delivered tangible results in terms of efficiency gains and cost reductions, they placed their emphasis on change and forced organizations to constantly abandon their work practices and embrace new ones. The disruption of the workflow and our inherent resistance to change meant that each business system upgrade and its consequent performance gains had to be weighed against its long-term impact on the human resources and organizational structure.
Another way to approach the infusion of technological enhancements to business is to shift the focus from the specific business processes on to the key business functions and objectives. Instead of tinkering with separate business processes, the new paradigms are centred on broader business functions such as Customer Relationship Management (CRM), Supply Chain Management, Business Intelligence (BI), Financial Management and Human Capital Management.
The Customer Relationship Management paradigm for example, integrates all business functions in the customer life-cycle from the acquisition of new customers through the sales and after-sales service functions and to customer retention and value addition. CRM systems integrate the marketing and advertising systems with Point-of-Sale systems and customer support and feedback systems, often facilitating centralised data sharing across all platforms. Therefore, efficient data warehousing and information gathering are two key functions in CRM systems.
Business Intelligence systems are often closely integrated with CRM systems because they make use of the data that is collected in the CRM system to assist executive decision making. Powerful computers and fast networks have made it possible for businesses to gain significant tactical advantages by having real-time access to current business information. So it is not difficult to see how the other components of a modern business system such as Financial Management and Human Capital Management also could benefit from integrated access to centralised data warehouses.
What's in all this for the average PC user? Well, such integrated business solutions models are driving technology to a future where the spin-offs of those innovations will eventually end up in our PCs. For example, in the future, you will not have to install dozens of different applications on your computer to do your daily tasks. Instead all the applications on your computer will share one interface.
One program will play your music and help you balance your monthly accounts at the same time – the same way you can already use the Google word processing and spreadsheet applications on your browser now.
Businesses are also building databases that can recognize the 'meaning' of text as well as multimedia elements such as pictures, sound and video.
It won't be long before the Internet search engine you use will be connected to vast databases that would be able to 'understand' the semantics of your queries and return with near exact answers!
Write in with your comments, questions and suggestions to technopage@gmail.com