From acting to activism
Former US actress Maggie O'Hara finds new stage in India
By CASSIE BIGGS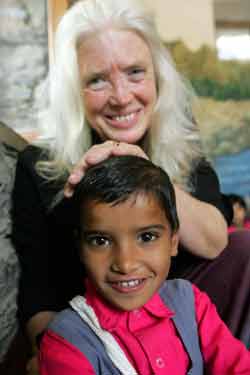 Former Hollywood actor Maggie O'Hara and first grader Sonali, who was successfully operated for a large tumor affecting her lower spine
RISHIKESH, India (AP) - Maggie O'Hara may have left the false eyelashes and spike heels behind when she ditched Hollywood for the banks of India's sacred Ganges river, but the 50-something still knows how to command an audience. Up the winding mountain path, at the home she built for disadvantaged children in this north Indian town, a crowd of admirers is gathering, offering cash, checks, and even a white sheepskin rug.
Prabhavati Dwabha, as she is now known, drapes it dramatically over her chest, and laughs. It's the fame and recognition the American dreamed of as she struggled to make it in Hollywood in the 1970s, taking roles most other actresses avoided - the bad girls, lesbians and prostitutes.
But while she still loves a bit of drama in her life, the ego has gone - shed like the 22-pound (10-kilogram) make-up case on a transformational journey that ended here, in the foothills of the Himalayas, where for the last 14 years she has fought to improve the lives of women and children.
With its Hindu temples, yoga ashrams and morning chanting, Rishikesh couldn't be farther from the cutthroat world of Hollywood and the Palm Springs, California, party where Prabhavati's spiritual awakening began. Ramana's Garden, tucked into the side of the mountain and overlooking the green-glass Ganges, is home and school for about 200 children from the lowest rungs of Indian society: the untouchables, the low-castes, the children of migrant workers from across India, neighbouring Bangladesh and Nepal, and girls.
Half of the 60 children who board at the school are from Nepal, refugees of a decade-long communist insurgency that drove thousands of villagers into northern India. Many of the girls were rescued from brothels, the boys from being forcibly conscripted into the guerrillas' army, says Prabhavati, a statuesque woman who participated in many of the rescues.
Her refusal to submit to Hollywood's notorious casting couch cost her an acting career. In India, her stand against corruption, prostitution and discrimination has nearly cost her her life. In between bites of a beetroot pesto pasta, fresh from the school's organic farm, Prabhavati describes how eight years ago a mob armed with sticks turned up at the school and drove them off the land - prized, she says, by timber merchants for its centuries-old trees.
"I really thought with integrity, with honesty we could take on negative elements like liquor mafia, timber mafia, prostitution," she says.
"I've understood you can't. You won't win, they're a thousand times bigger than we are. Fighting just made me lose everything, nearly my life."
So she did the next best thing: She rebuilt her school about 4 miles (6 kilometres) down the mountain, and added an organic cafe that draws western spiritual tourists from nearby Laxmanjhula with its home-cooked curries, salads and fresh fruit lassis - a popular Indian yogurt-based drink."If the kids are at our school, they're learning English, they're learning vocational skills, they're getting fed and clothed and receiving medical care.
"Their parents are less likely to pull them out and either send them to work or sell them to a brothel or into marriage. It makes a critical difference and ensures the children can have a livelihood - a legitimate and productive one," she says. But a new battle is looming. Already, she has lost half her land when a survey map was redrawn, and now the mountain retreat is under threat from the timber merchants.
She is currently touring the U.S., Europe and Asia, where she hopes to raise some of the $35,000 (euro26,000) needed to build a new addition to Ramana's Gardens - where already the kids are sleeping three to a bed. It's an unlikely transformation for someone who admits that up until her arrival in India wanted nothing more than fame.
"But as hard as I tried to stay single-minded on acting, life was pulling me in a different direction," she says. The "spiritual circus" climaxed one morning in 1978 after an all-night Hollywood party in Palm Springs, California. The 28-year-old was facing an ultimatum - sleep with the producer for a part or forget about working in Hollywood again - when an argument over who would be the most marketable spiritual guru of the time broke out.
Dressed like every other wannabe starlet in spike heels and a string bikini, and clutching a margarita, she was hoisted onto a table and commanded to read from one of the gurus' books. She recalls the words with absolute clarity: "You're a beggar. And you know it. And you're always going to be a beggar until you find that which was never given so can never be taken."
"I knew instinctively that he was right," she says of the Indian guru, Osho, who died in 1996. "I mean, how much more of a beggar can you be: in a string bikini on a table in front of 100 men who you want to beg for a part. And I thought, 'I'm not going to do this. I can't.' So I got off that table, left Palm Springs, left Hollywood and flew to India."
The desire to give back came some time later during a year spent living in a cave in the mountains of Rishikesh, where she saw firsthand the day-to-day hardships of the mountain tribes; children kept out of school, sold into slavery, into marriages; women beaten by their husbands.
A medical clinic was first, then a school. Over the last 14 years, Prabhavati has helped 1,800 children get an education. Hundreds of women have been trained in tailoring, and in growing organic vegetables and herbs bought by Ramana's Garden for the children's food and medicine. "It's a small difference," she said, "but it's like a stone in a pond. There will be ripples."