Intense fighting resumes for besieged Palestinian camp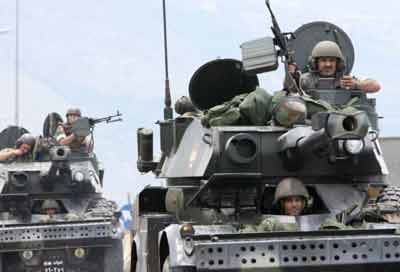 Lebanese army vehicles advance towards the Palestinian refugee camp of Nahr al-Bared in northern Lebanon. Lebanese ground troops, backed by artillery, are tightening the noose today around Islamist militants of Fatah al-Islam holed up inside Nahr al-Bared, where the humanitarian situation was described as desperate. AFP
NAHR AL-BARED, Lebanon, Saturday (AFP) - Fighting resumed between Lebanese troops and Islamists holed up in a northern refugee camp today, a day after the most intense exchanges of the two-week-old siege.
Soldiers were heavily pounding the Nahr al-Bared Palestinian refugee camp, where the army is besieging fringe militant group Fatah al-Islam, while machine gun fire was heard from inside, an AFP correspondent said.
Smoke was seen billowing from above the centre and north of the camp. The army said it lost three soldiers in the intense exchanges on Friday, while a Palestinian official inside the camp said at least eight militants were also killed.
But the clashes died down during the night and there was only sporadic fire, military sources said. "The bodies of eight fighters from Fatah al-Islam are still on the streets on the northern side of the camp", Abu Imad Halwani, an official of the mainstream Fatah movement of Palestinian president Mahmud Abbas, told AFP from inside Nahr al-Bared."No civilians have been wounded," he added, referring to the estimated 5,000 refugees trapped by the fighting.
The latest fatalities took to 91 the death toll since the fighting erupted on May 20, 38 of them soldiers, in what is by far Lebanon's deadliest internal fighting since the 1975-1990 civil war. The Beirut government has said it would prefer a peaceful end to the siege but has also insisted that Fatah al-Islam hand over its fighters to stand trial for the deadly assaults on government troops, something it has consistently refused to do.
The army on Friday again charged that the militants were using the civilians still trapped inside the camp as human shields. The Palestinian official said the Fatah al-Islam fighters were firing rocket-propelled grenades and assault rifles against the encircling troops.
However the soldiers have "not entered the camp, but have been besieging it from the north and the east," Halwani added.
By longstanding convention the army does not enter Lebanon's 12 Palestinian refugee camps leaving security inside to militant groups.
The United States voiced strong backing for the army operation while expressing concern for the plight of the civilians trapped by the fighting.
"The Lebanese government is doing what it needs to be able to fight against a very dangerous terrorist group, and to bring law and order throughout the country," State Department spokesman Tom Casey said. "They've assured us that they are going to do everything they can in conducting these operations to minimize its impact on the civilian population in the camps."