This article is part of a continuing series on the 'Mahavamsa,' the recorded chronicle of Sri Lankan history
Prince Parakramabahu
1. Queen Ratnavalee who was disappointed over the marriage of her daughter, left the Yuvaraja's house taking her son with her. They went to Yuvaraja, Kitsirimegha. As he did not have a son of his own, he wanted to adopt Prince Parakramabahu as his own son. Moreover, this was his brother's son. Fortune smiled on the prince, since he started living here. The Yuvaraja, Kitsirimegha made arrangements to give the prince a good education. The prince too studied well and soon mastered the use of elephants, horses and weapons of all kinds.
2. Meanwhile Yuvaraja – Sirivallabha died causing immense pain and heartache for Kitsirimegha. Sirivallabha was the only surviving brother of Kitsirimegha and his demise caused a lot of sorrow. Kitsirimegha began to think that all his brothers had left this world leaving him alone. He spent a number of days, mourning.
3. It is difficult to give an exact date of these events. But it is rightly guessed that it was around 1140 AD. However, to the Yuvaraja who was in pain, there came some good news. It was that, Queen Mitta, the wife of Manabharana, was blessed with a son. He also got to know that the child's parents had named him Sirivallabha, going by the name of the grandfather.
4. Kitsirimegha was overjoyed and sent a lot of presents to the Yuvaraja, Manabharana. He could somehow come round from the sad mood that came over him after the death of his brother. The birth of this grandson was a blessing. By this time Manabharana , had made Pabawathie, the other daughter of Queen Ratnavalee, also one of his queens. Manabharana had become Yuvaraja by this time. Queen Pabawathie too was blessed with a son.
5. King Kitsirimegha was happy to receive this news. He was happy that his generation was gaining ground as these were sons in the family. Amongst all these happenings, Prince Parakramabahu grew up. He was bent on his education and in fact, he surpassed the other princes of his age, in learning.
6. This prince, as we know, was gifted with a good physique and sharp intelligence. He was always far-sighted and never acted hastily. He was very careful. Times passed and his period of learning the arts, came to an end. He got a long vacation. But the prince never went out. Kitsirimegha had supplied all the comforts to him, in the palace itself and the prince stayed in, contemplating.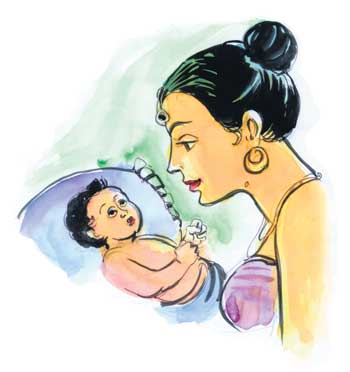 7. His thoughts were about the unrest that prevailed in the country. He contemplated thus, "This is a land visited by the Buddha, three times. The Dhamma exists here, in its pristine purity. Moreover the relics of the Buddha – The Tooth, Hair, Collar Bone, Bowl and even his Foot Print is left here. A branch of the sacred Bo Tree is also planted in this country. This land is rich in natural resources. Right round the country is the sea, which gives valuable pearls. The land is so fertile that any kind of plant would grow here. Fruits are in abundance. The inner layer of the earth is full of valuable and rare gems.
8. The climate is also good. For a certain period of time, the entire land was ruled by one sovereign ruler. Today, things are quite different. The country is divided. There are incessant fights among the different rulers. Today there is no ruler who could unite the entire land and rule as a supreme ruler. So far, everyone had failed in this mission."