Media under threat as the business of corruption thrives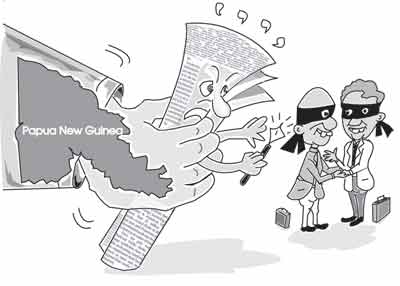 A few days ago an e-mail landed in my computer from the editor-in-chief of the Post-Courier published in Port Moresby, the capital of Papua New Guinea. He had written to the Small Newspaper Information Exchange started by the Commonwealth Press Union in London and managed by Professor Mark Pearson, head of journalism at the Bond University in Queensland, Australia to alert members to a new situation there.
The letter is extremely revealing and is a recital of threats to and intimidation of journalists that many of us in this vocation have become accustomed to over the years.
It is worth quoting the letter in full because it seems that people even in countries where the media is subject to intense pressure and harassment do not appear to appreciate the horrendous conditions under which media personnel are forced to work, very often at extreme danger to themselves, to keep a public informed of the seven veils of secrecy behind which politicians, businessmen lined up behind them, political aides and officials operate, violating legal and ethical norms.
It is such public apathy or indifference, the ineffectual noises made by political oppositions and occasional squeaks from local media and other so-called watchdogs that embolden those who wish to crush press freedom and turn scrutinising media into convenient lapdogs.
It is not just in the 53-nation Commonwealth that the media comes under immense pressure and journalists are killed for doing what they are rightly expected to do or coerced into not doing what their vocation teaches them to. Here is what Oseah Philomon, editor-in-chief of the Post-Courier whom I first met during the CPU Conference in Colombo four years ago, has to say.
"Over the past few months the Post-Courier has been running a series of stories on corruption in various agencies in the Papua New Guinea Government including the National Intelligence Organisation and the immigration and citizenship division of the Department of Foreign Affairs and Trade.
"This led to our star female reporter and chief of staff Gorethy Kenneth being attacked by three men – one with a pistol outside a government building last Friday evening. The pistol was held to her head and the attackers demanded to know where she got all her stories from. Over the weekend, armed men have been seen around Gorethy's compound at a suburb of Port Moresby. Then on Tuesday night this week, 11 men fully armed with firearms, axes and a grenade entered the compound in the early part of the evening. They tried to gain entry into Gorethy's unit but a male cousin of hers was there and put up a big fight.
"No shots were fired but the men left promising to return to 'finish' their job. The same people also issued threats against a number of senior editorial and managerial people at the Post-Courier.
"A major government investigation is underway in Port Moresby as a result of the stories in the Post-Courier. Our editorial today strongly condemns the attack. We have vowed never to give up as we firmly believe that corruption is destroying the future of our country. Corruption is now well and truly entrenched in Papua New Guinea society. It has compromised many sections of the civil service and is threatening the future of PNG. We will continue to expose corrupt practices wherever and whenever we come across them. We are doing this for the benefit of the people of Papua New Guinea who want a better future for their children."
You could replace Papua New Guinea with the name of several other countries including our own and this letter would be relevant to any of them. This is the tragic state of several countries, big and small, where corruption in the political establishment, the business community and state agencies has become endemic or are fast becoming so, and the only instrument that stands in the way of the increasing institutionalisation of corruption and ready to expose this is the media (or rather sections of it) because of a feeling of social responsibility.
As long as that institution is threatened by those within and without the circles of political power this malaise will continue to eat into the very bowels of our society and become a permanent canker in our body politic. Corruption, fraud and the lack of accountability are not the monopoly of the developing world. Only the other day Japan's Agriculture Minister Toshikatsu Matsuoka committed suicide hours before he was to appear before a parliamentary committee on charges of suspicious bookkeeping and other financial irregularities.
Earlier last month there were reports of former French president Jacques Chirac being investigated in connection with an illegal $ 30 million account in a Japanese bank with possible South Pacific links. During his days as the mayor of Paris there were numerous allegations against Chirac of illegal practices and financial wrongdoing. Unfortunately for those who wished to see Chirac prosecuted, the French president enjoys virtual immunity from prosecution even for acts committed before assuming office following a controversial decision of the Constitution Council on January 22, 1999.
But now that he is out of power, two enterprising investigative magistrates have decided to pursue the matter particularly after papers seized some 10 years ago from General Philippe Rondat, a former head of the French intelligence service DGSE, threw fresh light on Chirac's activities.
It might be recalled that German Chancellor Helmut Kohl resigned from his Christian Democratic Union party's honorary chairmanship after having earlier relinquished the chancellorship, when it was revealed that he accepted at least a million dollars in unreported political donations during his tenure as chancellor and refused to disclose the donors.
Way back US president Richard Nixon was forced to quit the White House over the Watergate scandal. Though Kohl and Nixon both were instrumental in major domestic and foreign policy achievements – unification of Germany and the integration of Europe in the case of Kohl and détente with the Soviet Union and peace with China in case of Nixon – they have been tainted with corruption and that stigma will not go away.
Here in the UK, Tony Blair and the scandal over cash for honours where money bought political influence and position, is not yet over and is likely to be part of his legacy. Yet each and every one was investigated by responsible authorities and institutions. Here in the UK for the first time a serving prime minister was questioned by the police that relentlessly pursued the matter for months chasing every bit of evidence and questioning highly placed persons irrespective of their political affiliations or influence.
From Oseah Philemon's letter we know that even the PNG government has also launched a major investigation. Yet in other countries including our own accountability and the investigation of those alleged to be corrupt for accepting or giving bribes, peddling influence for gratifications and similar acts are rarely, if ever, heard of unless they happen to be political opponents or those with incriminating information.
It is that vital element of official probity and the legal consequences that should follow which we sadly lack in our society. It is to hide such acts of omission and commission and stop investigative journalists and media asking those probing questions and alerting the public that they are brow beaten, threatened and obliterated by the use of state and non-state actors.
Like with Nixon, Kohl and possibly Chirac and Blair, the smear of corruption will stick to other tainted leaders too. But will those who speak blithely about caring for the people care what the public really thinks of them? Not after they have amassed enough wealth for samsaras.