Politics of panic and confusion
Ratmalana blast misses the target but shatters Colombo
Upbeat Ranil asks who owns the secret company in the Caribbean
Tough action against Alles as Mangala returns from London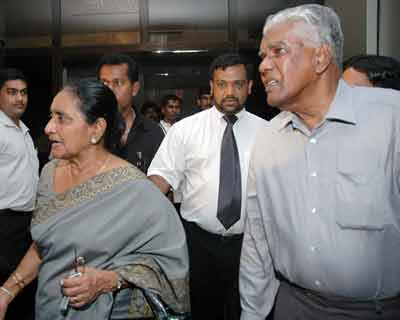 Parents of Tiran Alles accompanied by ousted minister Sripathi Sooriyarachchi rushing to the Nawaloka hospital as TID detectives grilled Mr. Alles. Pic by Saman Kariyawasam
Politico-military issues continue to be the uppermost priority for the Mahinda Rajapaksa Administration -- as security forces in the North and Special Task Force commandos of the Police stepped up their offensives against Tiger guerrillas in the two theatres of conflict.
In what seemed clearly a retaliatory move, the guerrillas exploded a claymore mine at Ratmalana in Greater Colombo on Monday evening. It came just three days after a similar bomb placed on a motorcycle exploded at Colombo's Reclamation Road killing a soldier and wounding three more. Three civilians were also injured.
It became clear that the claymore mine placed on the roof of an abandoned shop hit the wrong target – a Special Task Force truck returning from their base in Katukurunda to their base in Gonahena near Kadawatha. It had been meant for a truck carrying troops, according to intelligence sources. There were frequent movements between a transit camp and the Air Force base located at the domestic airport in Ratmalana. That is how they travelled either to fly to Jaffna or return from there. The claymore mine had been placed for the return journey of a truck carrying troops.
That day Police commandos had all gone for an interview in their main base at Katukurunda, south of Colombo. Their Commandant, Deputy Inspector General of Police Nimal Lewke was forming rapid deployment units for the STF. These men on motorcycles were to be assigned important roles to ensure normalcy in the Batticaloa district. Four commandos who were not successful were returning to their camp in Gonahena for an overnight stay before they returned to their originally assigned units. Instead, it is their truck that was hit by the claymore mine. A police commando died and another is in a critical condition. Two more were wounded and are receiving treatment. Seven civilians were also killed in the incident.
The second claymore mine within three days seemed to give a grim warning to the defence and security establishment -– the guerrillas are set to resume violence in the City and suburbs. The news that spread worldwide –- that the guerrillas had exploded another bomb in Colombo area -– fearful enough, would discourage even the tourists who braved bad news to spend a holiday in Sri Lanka. Whilst some western nations were revising their travel advisories to their nationals, the economic impact was fearfully dismal. The rupee equivalent of the dollar, which stood at Rs 111 a week ago, had dropped to Rs 112.
In a move that underscored a high degree of panic, the next day, the security forces and police cordoned off almost all roads to the City and suburbs. Every vehicle entering was thoroughly checked. So were the passengers in buses. This is by no means to say security checks are a waste of time. To the contrary, if such checks were done the previous day, perhaps the claymore mine explosion would not have taken place, but then again, the bomb was placed in a shop. The intention appears to be to stretch the Forces to the maximum, tie them up in Colombo as much as possible, and keep making the LTTE's presence felt.
The result of the virtual vehicle-by-vehicle search, though it is not intended, is helping the guerrillas achieve one of their main objectives -– causing wide displeasure and discontent in the minds of the public and angering them against the Government. Those who left the Bandaranaike International Airport, including passengers, to Colombo took almost four long hours to reach the City. Even the Chief Executive Officer (CEO) (President) of Emirates Air-line, partner of SriLankan airlines, Tim Clark was travelling from Colombo to BIA. The delay forced him to miss the Emirates flight to Dubai. He was compelled to take another flight later. One can only hope those passengers did not include any other foreign investors which the Government boasted were coming in numbers, or the few tourists trickling in. Weddings were disrupted. Many who could not carry out banking and other business chores were left stranded on the roads for hours.
One thing became clear at the end of the day -– no claymore mines or weapons hauls were recovered. In similar situations, if more such total security clampdowns are carried out, it is not only national productivity that would go down at a time when the economy is tottering. It is also the image of the country. Once again, there is a need for a careful appraisal without reacting in panic and thus causing more fear in the minds of the public. It can only erode the latter's confidence; a thankless job but something that needs clear-headed thinking amidst the chaos.
The move came as preparations got under way to conclude one of the biggest military deals under the Rajapaksa Administration -– the procurement of MiG-29 multi role combat aircraft and others. A four member delegation left yesterday for Moscow for this purpose. It is headed by Jayantha Wickremasinghe, Chairman of the state owned Lanka Logistics and Technologies Limited and comprises Air Vice Marshal Prashantha de Silva, Director Aeronautical Engineering, Sri Lanka Air Force, Flight Lieutenant E.M. Nalaka and Flight Lieutenant P. Ekanayake.
Sri Lanka's Ambassador in Russia, Udayanga Weeratunga, has prepared an elaborate programme for the delegation. From today till June 10, they will be in Russia and will visit the MiG-29 factory, Ulan Ude, the manufacturers of Mi-17 helicopters and meet representatives of Rosboronoexport -– the Russian state trading arm for defence supplies. From June 10 to 14, the delegation will visit Ukraine where they will pay a visit to Ukrinmash -– the company from which the MiG-27 aircraft were procured. They are also to pay a visit to an aircraft overhaul facility in Lugansk. As reported in these columns last week, President Mahinda Rajapaksa told the Cabinet about the Government's move to procure the MiG -29s.
These developments came against the backdrop of an important announcement Defence Spokesman Keheliya Rambukwella made at Wednesday's news conference. He declared that the Government was taking a fresh look at the Ceasefire Agreement of February 22, 2002. The remarks seemed to imply that the CFA has come under close review and heightened speculation whether President Rajapaksa was planning to declare it void. In such an event, the CFA makes provision for two weeks' notice to be given. On the other hand, sections in the Government believe the remark by Rambukwella was a move to "test the waters" before any step is taken.
This section is basing their observations on remarks Rajapaksa made to the Archbishop of Colombo, Rt. Rev. Oswald Gomis, Bishop of Chilaw Rt. Rev. Dr. Valence Mendis, Bishop of Mannar, Rt. Rev. Rayappu Joseph on Thursday at Temple Trees. He said his Government was willing to resume the peace process with the Liberation Tigers of Tamil Eelam (LTTE) at any time. However, such talks will have to be unconditional. Moreover, he said, the Government would continue with its military action against the guerrillas. He referred to the claymore mine explosion on Monday at Ratmalana and asked, "How can I not do that when innocent civilians are getting killed."
The focus will again shift to the peace process next week. Japan's special peace envoy Yasushi Akashi is due in Colombo on Wednesday for talks with Government leaders. He is arriving here, according to diplomatic sources, before a meeting of the Donor Co-chairs of the Peace Process to be held in New Delhi. The dates are yet to be determined. Japan is Sri Lanka's largest single aid donor and has resisted international pressure in the recent weeks to cut aid to Sri Lanka in the wake of the worsening human rights situation, killings, abductions, kidnappings and a breakdown of the law and order situation. Akashi is expected to raise these issues with Government leaders and ascertain what the Government's plans were. Government sources are to tell him that they expected the All-Party Representative Conference (APRC) to come up with a comprehensive set of proposals to end the ethnic conflict within the next two months.
Adding to the problems of the Rajapaksa Administration is an upbeat United National Party (UNP). At a meeting in Kalutara, the Party's Leader, Ranil Wickremesinghe, hit home what will clearly be the Party's main thrust in the months ahead. Wickremesinghe charged that a particular "Sangamaya" had now opened up a new company in the Caribbean.
He went on to elaborate that a new company was now purchasing shares in the stock market in New York, London and Mumbai adding that he does not believe that the company is owned by Harry Jayawardena, John Keells or Tobacco Company, but the public can make a guess who owns the company. He said though there were dozens of ministers there were only four controlling the country and they were the 'Hatharawaram (Privileged) Rajapaksas'.
He said that JVP's Wimal Weerawansa had pointed out that a kickback of Rs 1000 million had been taken from the Telecom deal adding that there is "no limit in corruption, frauds and bribery". Wickremesinghe also touched on the issue of businessmen being forced to pay "Kappan" (ransom) and said that the latest has been that Muslim businessmen are being abducted to demand ransom. He said that one of them had paid Rs 30 million for his release. He said though claims were made that 95 per cent of the war had been ended the LTTE had come by air and carried out air strikes and attacked the Navy in the Delft Island and also fighting continues in Thoppigala in the east.
Rajapaksa, who made no bones about his anger towards his erstwhile Campaign Manager Mangala Samaraweera for bringing out details about the deals involving the Rajapaksa siblings, coincidentally moved this week to arrest Samaraweera's main financier Tiran Alles. It was not clear whether it was coincidence that the arrest came hours after Samaraweera returned to the island from London. Close associates of Alles claim that a top police officer had approached him two weeks back trying to reach a compromise that the charges against Alles could be dropped, if he was willing to make a statement denying certain issues.
Alles and his associates believe that investigations against him were 're-launched' the day after Samaraweera did not turn up at Temple Trees to be re-sworn in as a minister on May 16. Alles had got himself admitted to the Nawaloka hospital four days before he was arrested by TID officials who questioned him for nearly two hours. He was allowed to remain in the same hospital, but has been debarred from using phones and only doctors and nurses treating him can visit the room which is being guarded by armed policemen. While being questioned both, Samaraweera and former minister Sripathi Sooriyaarachchi had visited Alles and Samaraweera is reported to have had a heated exchange of words with the TID officials led by Chief inspector Prasanna Alwis.
The arrest came just three days after Alles's lawyer wrote to the Inspector General of Police (IGP) Victor Perera that Alles cannot be discharged from hospital as he was diagnosed to be having Angiooedma, which is stress related where an attack can be fatal. However he mentioned that Alles was willing to make a statement at any time. Alles was yesterday moved to the National Hospital. As some kind of opposition appears to be building up bothering Rajapaksa, how he rides the storm or whether it would be a storm in the tea cup will be seen in the next few weeks.