Responding to the Theatre Owners claims, the National Film Corporation (NFC) Chairman, Ashoka Serasinghe said that he was in agreement with the problems that have been faced by the theatre owners.
'As a measure we have made arrangements to increase the ticket rates and I am sure that this would happen definitely within a week's time' Mr. Serasinghe said.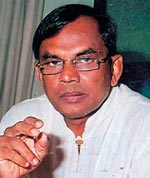 NFC Chairman Ashoka Serasinghe

The government too has become involved by exempting some of the taxes imposed on theatres by the local government authorities. We met the Minister of Local Government, Janaka Bandara Tennakoon to discuss how these taxes could be brought down.
'I am standing with the Theatre Owners and in fact I have met the President and has brought these to his notice' Mr. Serasinghe told.
"But there is a delay on the part of the Theatre Owners as they have not made representation to the local government authorities so far," NFC Chairman said.
Mr. Serasinghe also said that the problems of the theatre owners aggravated due to hading over of film distribution to private companies.
"Five years ago the then administration without foresight handed over film distribution rights to the private companies and today except one company all the others are facing problem,".
"I personally believe that the distribution rights have to be under one umbrella, the Film Corporation.
This has been reiterated by Dr. D. B. Nihalsinghe former chairman of the NFC. He however said that an attempt to change this situation would create an adverse situation.
"Any way I am marking my time and making plans give at least 75% of the distribution to the National Film Corporation," he said.