Dr.Atukorala dedicated to sports medicine
Dr. Daya Atukorala – a doctor on call, especially at rugby schools, clubs etc is an old Nalandian better known as Daya on and off the field to his friends. He completes 15 years of dedicated service.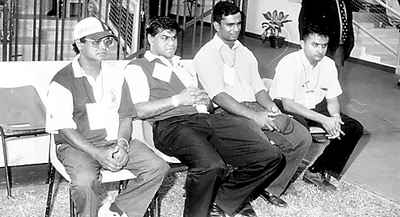 Picture shows Dr. Atukorala with Consultant Surgeon Dr. Maiya Gunasekera, with two others in attendance at the Under -19 Rugby Asiad held here in year 2000.
Daya, has not played the game, but has the time and is at its "Beck and call" all the time. Daya initially started at Wesley College and then moved to Havelocks SC where he made his mark. At that time Havelocks had a rugby legend in late Dr. Hubert Aloysius. Daya got involved with CR&FC, CH & FC, Petersons, Old Zahrians SC etc.
He came under the tutelage of Major General (Dr.) C. Thurairaja. Dr. 'Thurai' has no peer in Sri Lanka pertaining to sports medicine. He commended Dr. Atukorale for his dedication and devotion.
He is the assistant secretary of Sri Lanka Sports Medicine Association. A life member who works with the Sports Medicine Unit in cricket and athletics, he served in the ICC Champions Trophy in 2002 and the Asian track and field championship 2002. He has also helped athletes in Nigeria University, Ileife. He counts over 22 years experience (sports medicine), and is recognized in 12 biographies
Dr. Atukorale wrote a series of articles to The Sunday Times pertaining to sports injuries and also presented a Paper on Field Management of Shoulder Dislocations in rugby at the Indian Federation of Sports Medicine in 2005. He was serving at Hayleys as its Company doctor until he retired in May 2007.
With more time at his disposal Dr. Atukorala now has the time to serve in sports medicine better, at school, (district) club levels etc.